Have a Wild Time Playing Slots: A Guide to Wild Symbols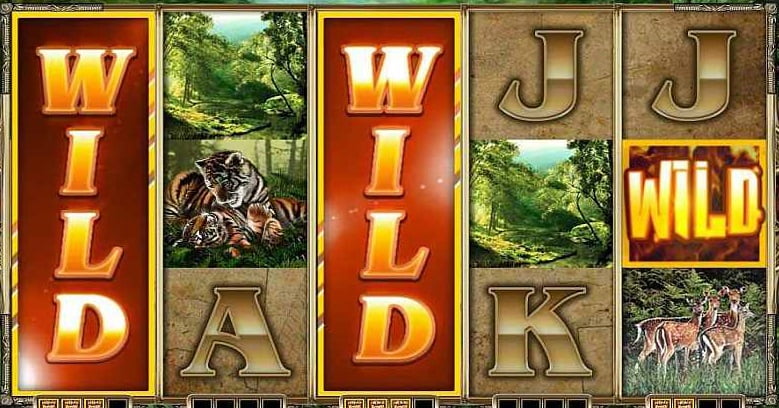 If you are new to online slots, then you're probably not aware of the wild time you can have, playing these popular online casino games. There is much to merely spinning the wheels and hoping for a win. To help you land those wins, software developers have often included wild symbols into their games.
What are Wild Symbols?
For those of you not in the know, wild symbols are special icons which appear in slots. These symbols can be used to substitute for others, much like a Joker in a deck of cards. When one appears, it can be used to help complete winning combinations on the reels. However, wilds come in many shapes and styles and serve different functions. If you want to make the most of wilds in slots, it is time you learnt what they could do for you.
Standard Wild Symbols
The most common type of wilds in slots are standard wilds. There is nothing overly remarkable about these. In short, they do what it says on the tin. They can substitute for all standard paying symbols, to help players land winning lines. Often, wilds cannot substitute for other special icons, such as scatters and bonus symbols. Some standard wild symbols also can pay out wins when they appear, and some even count as jackpot paying symbols.
Multiplier Wilds Provide Cash Bonuses
Multiplier wilds are valuable wilds to land. Multiplier wilds can maximise your winnings, by multiplying it by either a pre-determined or random figure. The paytable will tell you whether they double your wins, triple them or add even larger multipliers.
Split Wilds Extend Winning Combinations
Split wilds are an interesting symbol. These icons essentially split into two. This means they act as two symbols. They can lead to combinations which have more than five icons in them. If just one were to land in a winning combination, for instance, your potential five-of-a-kind combo would become a six-of-a-kind one. The more split wilds which appear, the greater the number of symbols in the winning combo.
Sticky/Frozen Wilds Are Here to Stay
Sticky and frozen wilds tend to remain on the reels when they appear. Sticky wilds will remain in the same spot on the reels for the next spin (or the next few spins). Frozen wilds often appear in free spin bonuses, and typically stay until the bonus ends.
What are Overlaying Wilds?
Overlaying wilds are symbols which can take up more than one space, often making a pattern on the reels, such as a cross. The basic purpose of these is that they allow your winning combination to include symbols which are other parts of the reels and would otherwise be of no use to you.
Scatter Wilds Trigger Bonuses
Scatter wilds are becoming more common in slots. In short, these symbols count as both wild symbols, and bonus triggering scatter icons. Having them combined means one less useless symbol occupying valuable spaces on the reels, which makes winning a touch easier.
Expanding Wild Symbols, Stacked Wilds and Wild Reels
Unlike overlaying wilds, expanding wilds generally appear on a single reel. When they do so, they will expand to cover the entire reel, covering up the other symbols on the reel along the way. By contrast, wild reels automatically cover an entire reel, and stacked icons are simply wild symbols stacked one on top of another. The latter can cover an entire reel, or most of a reel, depending on where they land. In a sense, these three types of reels all serve a similar purpose and offer a similar feature.
Move Nudging Wilds into Position
Nudging wilds are not as common as some of the other wilds we've discussed. These symbols may appear just out of reach at the top or bottom of a reel. Fortunately, nudging wilds can often be nudged down onto the reels, making them accessible. This may occur manually by the player hitting a button; it can happen at random, or not at all.
Spreading Wilds…Well…Spread
Spreading wilds work in a similar way to expanding wilds. However, these symbols tend to run across the reels horizontally, instead of vertically. These are arguably more favourable than expanding wilds, as they almost always guarantee a win.
Walking Wilds Kick-Off Re-Spins
Walking wilds first appeared in NetEnt games. These symbols often appear on the rightmost reels. When they do, they will trigger re-spins. On each re-spin, walking wilds will gradually move one reel to the left. Players will keep landing re-spins, and the wilds will keep on walking until they disappear from the leftmost reel.
Random Wilds Come Out of Nowhere
Random wilds also spring up in slots frequently nowadays. These symbols don't appear on the reels when they stop spinning. Instead, they are added afterwards at random. A 3D animation, character or cutscene may trigger them, or they may just pop up out of the blue. Where they land on the reels is down to chance.
Transferrable Wilds and Cloned Wilds
If you're playing a slot with several sets of reels, it is possible to come across transferrable wilds or cloned wilds. Whichever reel the wild appeared in, it will be transferred, copied or cloned over onto the corresponding reel on the other reel set or sets. This is most common in WMS developed slots with colossal reels.
Colossal Wild Symbols Make All the Difference
Colossal wilds are also popular in slot games. In slots, colossal icons can often be standard symbols, but which are 2×2 or even 3×3 in size. Therefore, colossal wilds are substitute symbols which are much larger than usual and can lead to epic wins.
And Many More
New wild symbols are developed all the time. By the time you've finished reading this article and tried a few out for yourself, a software provider will most likely have come up with a new and innovative wild. We've also missed a few other wilds out, but if you play a slot which has a good helping of any of the wilds listed above, you're in for a good time.
Relevant news