SBI Ripple end year on a high, XRP set to dominate in 2020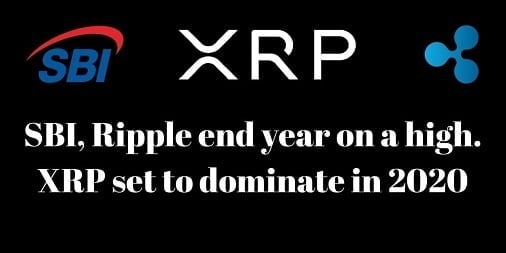 Today saw two massive announcements coming out of SBI and Ripple once again showing the world who is really boss in the fledgling crypto space. If anyone has any doubts about whether or not XRP is going places, whether it will "never be used by banks" or any of the endless FUD levelled against SBI, Ripple and XRP then it is time to wake up and stop believing the negativity, do your own research and accept that XRP is here to stay.
Ripple Caps Record Year with $200 Million Series C Funding
Today, Ripple is thrilled to announce $200 million in Series C funding—an investment that marks a record year for the business and further proves the value of blockchain technology in improving global payments and the broader utility of the digital asset XRP and the XRP Ledger.
The Series C was led by Tetragon with participation from SBI Holdings and Route 66 Ventures. These notable investors not only underscore Ripple's long-term potential, but as partners, they offer invaluable industry insight and expertise to help Ripple's business grow on a global scale.
"We are in a strong financial position to execute against our vision. As others in the blockchain space have slowed their growth or even shut down, we have accelerated our momentum and industry leadership throughout 2019," said CEO Brad Garlinghouse.
Ripple has seen its strongest year of growth to date in 2019. The company's global payments network RippleNet grew to more than 300 customers worldwide and included a new strategic partnership with MoneyGram. Today, the network has customers in more than 45 countries and 6 continents, with payout capabilities in over 70 countries. This network momentum drove 10x year-over-year growth in transactions across the network and more banks and payment providers using XRP to source liquidity on demand than ever before.
In addition, Ripple announced the next chapter for Xpring: the open developer platform for money. This platform offers tools, services and programs that make it easier for developers to send and receive payments in any currency, across any network, using the XRP Ledger and Interledger Protocol (ILP)—removing the pain and friction from integrating money into apps.
Finally, this investment will expedite the company's on boarding of new global talent to meet market demands and better serve its growing community of customers and partners.
Ripple's Series C is just one moment along the company's journey to change the way the world moves money. Ultimately, this investment supports Ripple's broader vision for the Internet of Value (IoV) to enable the world to move value like information moves today—a global problem, with far-reaching implications.
[
source
]
Boerse Stuttgart, SBI Group collaborate for digital assets
Today, Boerse Stuttgart and Japan's SBI Group announced a collaboration to develop a blockchain-based digital asset ecosystem in Europe and Asia. The Börse Stuttgart stock exchange owned by the group is the second-largest in Germany.
Under the partnership, SBI will invest an undisclosed amount in the Boerse Stuttgart Digital Exchange and plans to invest in Boerse Stuttgart Digital Ventures. Both these subsidiaries of Boerse Stuttgart are engaged in digital asset-related businesses.
Boerse Stuttgart Digital Exchange (BSDEX) is a joint venture of Boerse Stuttgart, Axel Springer and finanzen.net. BSDEX is regulated digital asset exchange which complies with the German Banking Act. Meanwhile, Boerse Stuttgart Digital Ventures is leading the digitization strategy of the group. It has investments in firms developing cryptocurrency and digital assets custodian services (blocknox).
"The SBI Group, including its crypto-asset trading platform and other related business operating companies, will fully make use of the collaboration with Boerse Stuttgart Group, to well-establish the actual demands of the digital asset throughout the world," said Yoshitaka Kitao, President and Representative Director of SBI Holdings.
SBI Group is one of the founding members of the Japan Security Token Offering Association, which is working on developing self-regulation standards around security token issuance. The alliance includes other major Japanese firms such as Nomura Securities and Daiwa Securities. SBI also invested in tokenization company Securitize amongst many other cryptocurrency and blockchain investments.
The Japanese firm has a joint venture with Ripple, SBI Ripple Asia, and last month SBI Remit launched a blockchain remittance service between Japan and Vietnam.
"With the SBI Group, we have found an ideal partner to push forward our vision of a highly efficient, global ecosystem along the value chain of digital assets," said Alexander Höptner, Chairman of the Management Board of Boerse Stuttgart. "Besides the exchange of knowledge and technology, possible fields of collaboration include the cross issuance and listing of digital assets, trading and brokerage as well as the creation of the first global custody bridge."
However, Deutsche Börse is another player in Germany with experience in digital assets and had a collaboration with Swisscom and Sygnum. The alliance had plans for a digital asset exchange, but Swisscom has teamed up with SIX which has its own digital exchange SDX. Instead, the Deutsche Börse plans to focus on digital asset opportunities in Germany.
[
source
]
Relevant news