RippleNet expansion explodes as Real World Adoption takes off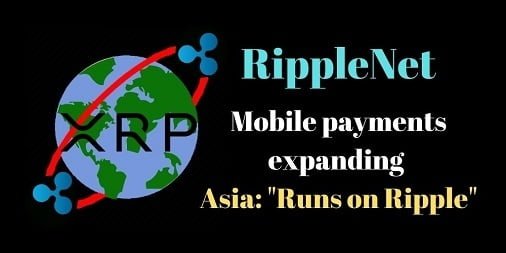 So far this had been a good day for news relating to real world adoption of crypto with Ripple releasing big news updates from two of their partners whilst Bitcoins own magical money printing machine Tether steps up the expansion of their own privacy sidechain "Liquid". Full details below:
1. Millions across Asia tap in to RippleNet
Siam Commercial Bank (SCB) is on a mission to change the lives of their over 16 million customers. Thailand's oldest bank has partnered with Ripple to help bring the company into the digital age and create SCB Easy—a mobile application that runs on Ripple to deliver instant, low-cost cross-border payments.
At Swell, SCB's SVP of Commercial Banking, Arthit Sriumporn, took the stage to discuss the journey with Ripple and how the 112 year old bank brings "happiness and smiles to their customers."
Eight of the top ten countries using mobile payments can be found in Asia. According to a recent survey conducted by PwC, a staggering 86% of the population in China use mobile payment apps and in Thailand, it's as high as 67% of the population. As the overseas workforce and tourism continue to grow in the region, people continue to look for better ways to send and receive funds across borders.
"It is so difficult to send and receive money today. People must physically go to a bank branch, fill out long and complicated forms and wait for payments to be received—with no transparency. With our service, their loved ones from abroad can transfer payment and receive money immediately," said Sriumporn.
On-stage, Sriumporn presented a demo of the SCB Easy app and within 40 seconds, the money was in the recipient's bank account. SCB's partnership with Ripple fulfills their customers demands for cross-border payments that are low-cost, fast and certain and provide a better customer experience. This is just the beginning for SCB and Ripple's journey together.
This year, SCB is planning to expand into Cambodia, Laos, Myanmar and Vietnam—collectively known as the CLMV countries. "One connection equals many possibilities," explained Sriumporn.
In addition, the bank is working with Ripple to offer cross-border EMVCo QR payments. QR payments are a popular payment method across Southeast Asia, but are typically only used within the local areas. By leveraging this capability, SCB is able to not only offer their customers remittance services, but also micro-payment services as well.
"Imagine you are a tourist coming to Thailand, and you can use your home country mobile application to scan for payment and eliminate the need to exchange for local currency. You can use your mobile app, scan the QR payment and receive goods right away."
In closing, Sriumporn shared that these services and products "are helping us put a smile on our customers faces. We are changing lives with Ripple."
2. TransferGo praises Ripple global real-time payments
In 2018, TransferGo partnered with Ripple on a program to help Indian migrant workers send money home to their families faster than ever. Today, the company can transfer funds from a sender in Europe to a recipient bank account in India in just a few minutes.
According to TransferGo's Co-Founder and CEO Daumantas Dvilinskas, this impressive technical achievement has a real impact on the lives of customers.
"After launching our Ripple corridor to India, we were able to pay out remittances in minutes," explained Dvilinskas. "Our U.K. customers are second-and third-generation Indians sending money to family and friends in India to help them pay utility bills and cover education costs. TransferGo enables those recipients to get that buying power as quickly as possible. Ripple gives us a competitive edge in India, which is the largest global cross-border remittance market, and today we're moving more than a couple of million pounds per year."
"Before RippleNet, we had a more traditional way of building our infrastructure," recalled Dvilinskas. "We would link up directly with our bank partners but each one had a different technology stack. Every integration was bespoke, which took up a lot of tech resources and was time-consuming. With RippleNet we saw a scalable opportunity to have one integration for multiple partners, so we don't have to redo it each time."
Plugging into RippleNet's global network of banks and financial institutions has reduced integration costs and the company is passing those savings onto its customers.
"We're helping people save up to 90% on traditional fees for cross-border transfers," noted Dvilinskas. "That makes a real difference to their lives. Our customers know they get a fair price from us and refer us to their friends and families because they trust us."
Knowing that many customers were sensitive about fees, TransferGo recently launched a free service for people who didn't need instant payments.
"TransferGo Free is all about following customer needs," explained Dvilinskas. "Sometimes you need to send money asap but other times you can wait and choose a zero-fee transaction at mid-market rates. But for most customers, the real delight of our service is the instant nature of the transfer and they are happy to pay for the peace of mind of knowing that their families will have the money in seven minutes."
Dvilinskas acknowledges that by 2020, even a few minutes will be too slow, which is why TransferGo is looking to use RippleNet's On-Demand Liquidity with XRP as an alternative to pre-funding. At the same time, the company is expanding its real-time operations into new markets in Southeast Asia, Latin America and Africa with RippleNet.
"RippleNet is facilitating new relationships and helping us to expand to new geographies," concludes Dvilinskas. "We share a vision of a world where cross-border payments are frictionless and accessible. Ripple will continue to be a vital strategic partner in our mission to become a global real-time payments company."
3. Bitcoins magic money printer Tether steps up privacy sidechain Liquid
January 7th 2020: Stablecoin issuer Tether conducted a cross-chain swap of 15 million USDT reserves from Ethereum to Blockstream's Liquid, a federated sidechain running parallel to the bitcoin blockchain.
Disclaimer: Just in case any of the lovely honest people at Tether take the above phrasing the wrong way, Bitcoin was at first referred to as "magical internet money". No other interpretation was intended. Obviously!
Relevant news