XRP Among the Cryptos Projected to Outperform BTC in 2020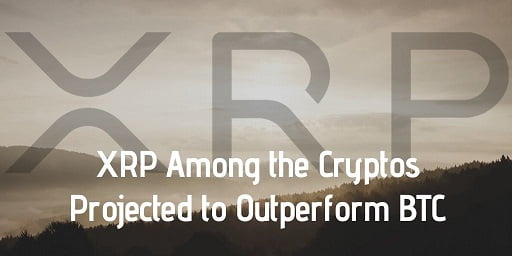 The dawn of the new decade will see the 3rd BTC Halving in May 2020. This, combined with accelerated regulatory efforts by numerous central banks worldwide, is expected to create perfect conditions for an increase in cryptocurrency prices.
BTC has been leading in the crypto world for the longest time. After all, its underlying tech is the pioneer of the crypto industry. More, Bitcoin's supply cannot be manipulated, nor can its maximum issuance (21 million units) ever change to dilute it [although one Bitcoin developer did submit a proposal to the other developers and the big mining cartels to cancel the halvings and thus increase the max supply far above the 21 million – this proposal was rejected]. This percieved scarcity of 21 million is the foudation of the illusion to make Bitcoin more valuable than other cryptocurrencies.
Bitcoin as a "Store of Value"
Bitcoin was first touted as magic internet money, then as the killer of banks. When it became obvious neither of these would ever happen, those with vested interests in BTC created the myth of it being the new gold or "Store of Value". It is looking increasingly likely however that Bitcoin is currently simply storing the value of the cryptocurrency markets as the incumbent, waiting for global compliance, regulations and governmental plans to be fully ready. Once this happens it seems plausible that all this stored "Value" will be moved into cryptos which are actually useful. Why else has Proof of Work's disastrous environmental impact not been shouted from the rooftops and banned yet? Political pawn Greta Thunberg was recently at the World Economic Forum yet despite all the talks of crypto at the conference, this global activist may have been instructed not to tackle this hugely important piece of the puzzle.
BTC Price Falls Shortly After Every Halving
Despite BTC's inch-perfect supply attributes, the upcoming halving is projected to cause its value drop or go on a bearish run. Experts believe that could give altcoins an edge to perform well and have a higher percentage price gain, defying the notion that BTC price controls value of the crypto market.
This can be deduced from previous Bitcoin halvings where the price did not increase immediately after halving occurred. Instead, it took about 10 to 12 months post the halving event for the coin to reach new heights. This is where the opportunity lies for altcoins, as investors will likely focus on these alternative cryptocurrencies for months before the price of BTC can rebound.
Moreover, new generation cryptos have essentially upgraded on overall functionality over the last year, processing transactions quicker than BTC, and scaling better to meet increasing demand from their services in different use cases.
As the market for new cryptocurrencies grows and evolves, it seems logical to deduce that BTC's lead may end or at least be reduced.
Here is our list of 5 altcoins that show huge potential in 2020 based on current use cases and value addition as the world begins its transition into the digital value transfer economy.
1. RIPPLE (XRP)
XRP is one of the top digital currencies that has become extremely popular since its release back in 2012.
From a technical standpoint, XRP plays an important role in facilitating the transactions taking place within the Ripple ecosystem. In this regard, Ripple can essentially be viewed as a private financial services platform that offers its users a host of amazing products including XRapid (ODL), xCurrent and RippleNET.
As of 2019, Ripple's various payment services are integrated into a large number of established banking institutions all around the world, including Standard Charter and Cuallix. That's because Ripple and XRP have allowed mainstream players to efficiently facilitate their international and cross-border transactions seamlessly, at a fraction of the fee that they formerly had to pay using the SWIFT network.
Ripple announced in November last year that its banking solution that connects commercial banking institutions – RippleNET – had amassed a customer base that surpassed 300 members. Additionally, the crypto platform posted a ten times year-over-year growth in transactions.
That announcement, coupled with the fact that Ripple has recently signed partnerships with leading banks around the world, including Japan's SBI Holdings and the Bank of England (BoE) are pretty good indicators that the platform is making good strides going into 2020.
The price of XRP is also projected to surge in 2020 after the potential and much anticipated Ripple IPO that is expected to raise funds to improve the ecosystem.
The platform now uses ODL protocol which leverages Ripple's native token XRP in support of faster, cheaper and reliable cross-border payments. The upgrade that transformed the xRapid product has, in less than 12 months, witnessed incredible growth, with ODL volume hitting a new month-over-month high in Mexico among other corrridors.
Judging from all these developments, Ripple looks likely to move towards a great start in the New Year following a rough ride lasting more than six months.
XRP is presently the 3rd crypto in terms of its overall market capitalization. However, a couple of years back, it was able to dethrone ETH for the second spot but was unable to maintain its financial dominance, but that may well change in 2020.
XRP is clearly head and shoulders above the rest of the cryptocurrency market in terms of partnerships, technology, regulatory complaince and of course real world use case and real, actual, current adoption.
2. Ethereum (ETH)
Even though ETH is the second-largest coin by market capital it is certainly not a bargain at the moment with a current price of around 130 USD. However, it is projected to have a big year ahead as it enters the Serenity phase (Ethereum 2.0).
The launch of Ethereum 2.0 could be a strong factor in the price of ETH as scalability is given a boost in the blockchain. Already in 2019, Ethereum has shown that it is still the number one smart contract platform.
With the Ethereum Enterprise Alliance, numerous strong partners and global corporations stand behind the project, which could lead to a surge in the value of ETH.
For example, Microsoft launched a token-based reward program for the Microsoft Azure platform at ETH Blockchain in early December 2019.
Moreover, the deployment of Sharding and the new eWasm virtual machine are all expected to be fully completed in the near future, which could potentially boost the price of the ETH token.
Currently, most of the capitalized cryptos and blockchain projects rely on the ETH blockchain to operate. The huge number of cryptocurrencies in the decentralized finance sector (Defi) that rely on the Ethereum blockchain highlight ETH as a crypto to watch in 2020.
3. CHAINLINK (LINK)
Termed as the best performing cryptocurrency of 2019, Chainlink is proving that it is here to stay despite all the FUD naysayers calling it a scam coin.
To put this in perspective, LINK is the only digital currency that has been continually appreciating vs. BTC. In fact, the token has grown by more than 550% last year.
To further boost the blockchain project, Google recently revealed that it is working on applications that store cloud-generated data on a blockchain. The project is expected to employ Chainlink to seamlessly integrate the external data into the cloud.
In October 2019, Intel, HyperLedger and other tech partners joined the Chainlink project to support blockchain application in the business sector.
Along with @Intel, @Hyperledger, @EntEthAlliance & others, we're excited to present a new Trusted Computation Framework that leverages public blockchains, Chainlink oracles & trusted computing to drive enterprise blockchain adoption. https://t.co/BSGGZJJfwu

— Chainlink – Official Channel (@chainlink) October 7, 2019
Chainlink is vital to the blockchain ecosystem because it links smart contracts to external, off-chain, real-world data.
As the new decade dawns, the issue of integrating external data into the blockchain will become even more significant, and Chainlink will increasingly utilize its Oracle technology to forge robust partnerships and join many new use cases.
4. EOS (EOS)
EOS was developed in 2018 by Dan Larimer, a world-renowned cryptocurrency developer.
The project first came to the attention of the masses when its associated ICO successfully was able to raise a whopping sum of $4 Billion from investors spread out across the globe.
What makes EOS so unique is the fact that it makes use of a novel consensus mechanism called the delegated POS (proof of stake) protocol that not many other altcoins use.
Additionally, the platform does not make use of a fixed mining protocol. Instead, it allows block producers to get rewarded for generating blocks based on their overall efficiency.
From its very inception, EOS has continued to grow in popularity in China and elsewhere. Since the start of 2020, the currency has been trading around the $2.70 mark.
5. Vechain (VET)
The VET project has received increased attention over the last year, and not without reason. Since the mainnet launch of VeChain Thor blockchain, the team has been able to establish more renowned partnerships than any other project in the crypto market.
VeChain Thor blockchain's use cases focus on digital business transformations in various industries such as wine, automotive, food safety, carbon emission reduction and agriculture.
Most recently, VeChain has entered into a cooperation with the Anhui Tea Industry Association in China, under which up to 670 Chinese companies from the tea industry can use VeChain Thor Blockchain.
So why could the big breakthrough for VET come in 2020? China's supreme leader, Xi Jinping, gave a speech in October 2019 in which he called for a major blockchain initiative.
VeChain seems to have met Chinese standards and could become an important partner with China in a host of practical use cases.
Aftermath of the Upcoming BTC Halving: Altcoins Projected to Prosper
Altcoins use the same decentralized concept as Bitcoin but take things a step further with unique features, enabling them to add interesting new use cases to the ecosystem.
For example, blockchain payment network Ripple remains one of the top projects to keep tabs on this year, as it is projected to transform the global money transfer system in a major way. We have seen many recent quotes also claiming XRP has already scaled to 50,000 transactions per second – this is yet another game changer if true but we will do a separate investigation into this in the coming weeks to find out the full truth on this.
Moreover, the company's CEO, Brad Garlinghouse, recently revealed an IPO may occur in the next year, and this massive fundraising event could well reverse XRPs fortunes after a difficult 2019. Ripple have also slowed down the sales of their escrow store of XRP, this should in theory help with rising prices but it does remain to be seen what happens with the XRP owned by the likes of Garlinghouse himself, Chris Larsen, Jed McAleb and Arthur Britto. How much do these guys still have left to offload and at what pace are they going to be selling?
Looking forward, the Bitcoin halving event is expected to happen in May 2020. It will likely be a dominant theme of the whole crypto space after the halving occurs, with BTC prices predicted to drop as they did after the two previous halvings.
As a result, altcoins are likely to enter an accumulation period which will last for most of 2020, as crypto investors look for profitable alternatives to BTC.
Disclaimer: We don't offer investment advice, we merely analyse the current trends in the market by looking at all the available facts in the crypto market. Trade safely!
Relevant news