Bitmex flash crash doesn't scare off XRP bulls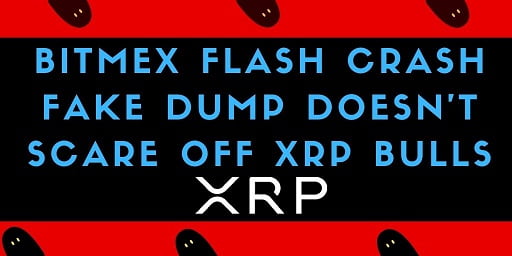 On February 13th at 3pm CET the controversial crypto exchange Bitmex flash crashed the price of XRP from over 32 dollar cents right down to 13 cents.
Bitmex founder and CEO Arthur Hayes is well known for his anti-XRFP stance and shonky margin trading exchanges are well known to flash crash in order to wipe out customers long positions as well as scooping up tons of very cheap buy orders created by numerous triggered stop losses which were unable to sell at the set limit.
All in all these kinds of flash crashes are highly illegal and fraudulent in normal trading circles but with crypto still being unregulated we have to accept unethical parties will continue to perform these sorts of magic tricks.
See the chart below for what happened:
XRP continues to light the way forward
Undeterred by this manipulation, the XRP price has so far held reasonably steady and many are expecting this fresh bullish run to continue although we have seen a small 1.5 cents pull back after the anti XRP exchanges antics.
XRP bullish on the back of more great news
Further to our recent news items, RippleNet continues to expand as the National Bank of Egypt joins the network. The Bangladesh Commercial Bank has also just signed up to use RippleNet, the BRD Wallet has announced it's support for XRP and Binance USA has called XRP the "Future of Banking Remittance Services" and now also uses the famous hashtag "#XRPTheStandard"
Once again it is very difficult to keep up with all the XRP news coming out thick and fast every day and that is a great thing for everyone concerned with cryptocurrency adoption!
BULLISH 🙂
Relevant news