Tron the home of illegal gambling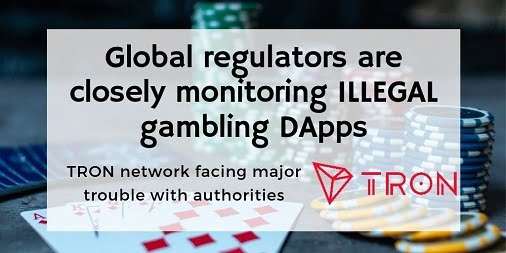 The TRON network boasts over 400 DApps with more being developed as we speak, with each of these DApps having their own TRC tokens. A huge majority of the DAPPS are gambling dapps and most, if not all are seen as illegal in most jurisdictions. With Dapp activity results freely available we ask is Tron the home of illegal gambling?
"The industry can be assured that we will use our powers in a targeted way, and consumers and the public can be assured we will take robust and effective action when gambling companies don't meet their obligations." Sarah Harrison, Commission Chief Executive UKGC
TRON DApps
As Justin Sun is proud to boast, TRON currently houses roughly 400 DApps and has a transaction volume of approximately 3m per 24hrs. A huge majority of these 3m transactions (tx) come from Gambling DApps which currently account for 15 of the top 25 TRON DApps by user volume (source: DAppReview) (note, 2 of the top-25 fall into the category High-Risk which DappReview describes as seeming too good to be true).
According to https://t.co/QpQgZvPCXf, on May 16, the #Dapp active users on #TRON reached 102,497, a new high level. #TRX $TRX pic.twitter.com/bGVDJ6JzZs

— Justin Sun (@justinsuntron) May 20, 2019
Taking a glance at the top-100 DApps (by users per 24hours) on the Tron network, we see this dominance reflected further with roughly 50 gambling DApps and over 30 classed as high risk. Tron recently signed a deal with Opera to integrate TRX payments and TRC (the tokens DAPPS on the TRON network create) payments in their built in crypto wallet. This announcement (of course) went coupled with a tweet from Justin:
The first browser with Web 3 capabilities, @opera, is announcing its intention to support #TRX and other #TRC-standard tokens. Opera's Crypto Wallet will allow hundreds of millions of users to play #TRON games and access TRON #DApps within the browser. https://t.co/wSrpUMCr7c

— Justin Sun (@justinsuntron) May 15, 2019
Heading back to DappReview to examine the volume of the "Games" Justin refers to in this tweet makes for sorry reading. Dapps classed as games account for approx. 10 of the top 100 of the DApps in the top-100 and a grand total of roughly 30k transactions in the last 7 days. If the 3 million DApp transactions per day is correct, that means that out of approx. 21million transactions, a mere 0.1436% of all tron transactions come from the games Justin indicates in his announcement.
But what value do these Dapps have for Tron's future as regulators around the world label Tron the home of illegal gambling.
Tron the home of illegal gambling
Most countries around the world have regulations concerning online gambling ranging from no action to full bans on all forms online gambling. In 1994 Antigua and Barbuda became the first nation to grant licenses to organizations involved in online gambling in the Free Trade & Processing Act. In 1996 the Kahnawake Gaming Commission started issuing licenses to many of the larger casino and poker sites in the world.
Since the early days of online gambling the landscape has changed significantly as many countries saw the surge of online casinos, and the number of problem addicts this created. Huge sums of cash were being won and lost on a daily basis, and with people being able to gamble 24/7 from the comfort of their own home, the threshold to gamble was almost completely removed. Another problem was that unlike land based gambling establishments, countries found it near impossible to regulate.
Gambling regulators
With gambling addiction getting out of hand, many countries enforced strict regulations similar to those they imposed on land based casinos, in order to try to bring to a halt the destruction they saw happening. The UKGC (United Kingdom Gambling Commission) in the UK, Arjel (Autorité de régulation des jeux en ligne) in France, Spelinspektionen in Sweden, the KSA (kansspelautoriteit) in The Netherlands, and the Danish Spillemyndigheden are just a few of the regulatory bodies regulating online gambling, and tackling illegal gambling.
The KSA in The Netherlands has issued many hefty fines to online gambling operators for advertising to the Dutch market (even the offering Dutch of payment methods like iDeal is seen as advertising in some cases), and recently shutdown a gambling ring offering illegal online and mobile gambling using so called Cash Centers.
How does this affect TRON
This clampdown on illegal gambling is certainly a problem for Tron. Many crypto enthusiasts and blockchain evangelists will claim that regulators won't be able to do anything because "it's decentralized" and "untraceable". We have already seen that this is far from the case as Tron agreed to comply with the Japanese government in instructing all Dapps to exclude Japanese players from gambling:
Regarding the R&D and the promotion of TRON DApp in Japanese market, TRON hereby declares that:
TRON strictly conforms with relevant laws and regulations in Japan;
TRON does not encourage or recommend any gambling DApps regarding the Japanese market;
TRON suggests Japanese DApp developers not develop any gambling DApps on TRON's platform;
TRON suggests developers who are working on gambling apps block users with Japanese IP addresses. Please do not facilitate the use of gambling apps among Japanese users;
TRON will collaborate with Japanese government and provide necessary support if any TRON DApps violate Japanese laws and regulations.
Justin himself is keen to push statements that TRON is willing to comply with regulators in all jurisdictions:
I consider myself as a global citizen. @Tronfoundation and @BitTorrent foundation are always based in Singapore. My days stayed in US are not even qualified for US residents. We are more than happy to collaborate with regulators in every jurisdiction to make #blockchain better.

— Justin Sun (@justinsuntron) May 28, 2019
What value, if any, should we put in the promises made to the Japanese regulators by TRON?
The statement made by TRON in relation to illegal the promotion and provision of illegal gambling services in Japan was published by the Tron-Foundation medium account on March 30th of this year. With the transaction volume of TRON Dapps increasing every week, we decided to go ahead and test a number of these Dapps for compliance under the Japanese agreement.
Given that this article was issued as giudance to all Dapps by Tron two months ago, we decided to test to what extent this was no being adhered to. We tested the following point:
TRON suggests developers who are working on gambling apps block users with Japanese IP addresses. Please do not facilitate the use of gambling apps among Japanese users;
First of all we used a couple of VPNs operating a Japanese IP address to attempt to access some of the Dapps including one which is believed to be owned by TRON themselves (it is hard to track ownership as we have stated before and base this belief on the many social media posts stating this to be the case, and we apologize if this is not correct).
Secondly, in order to remove unforeseen errors in the VPN's used, we contacted a number of Japanese residents through Twitter who agreed to attempt to access the sites using their Japanese Internet Service Provider.
The sites tested are:
Good Luck Casino
TronBet
Royal Online Vegas (This casino also operates an EOS casino on the same access pages)
Tron ACE
Tron Jack
Using the VPN's all sites could be accessed and no restrictions of any kind were noted.

Using a Japanese ISP within Japan all sites could be accessed and no restrictions or warnings were received!
We can only assume that TRON will be taking measures against these casinos upon reading this article as per this point from their instruction
TRON will collaborate with Japanese government and provide necessary support if any TRON DApps violate Japanese laws and regulations.
If no action is seen to be being taken, it will be hard for other regulators to hold store with any promises made to them by TRON in relation to this illegal gambling.
What the gambling regulators say:
We approached the UKGC about the rise of gambling Dapps on blockchains in relation to UK gambling legislation and their official response is as follows:
"The Gambling (Licensing and Advertising) Act 2014 extended the remit of the Gambling Commission to include any gambling taking place in Great Britain, regardless of where the equipment (servers) are based. Providing facilities for gambling to anyone based in Great Britain without a licence from the Commission is an offence under the Act.

"The Commission is clear that gambling with cryptoassets meets the definition of gambling under the Act (as it is money or money's worth) and so to offer, or indeed advertise cryptoasset/blockchain gambling to consumers in Great Britain without a license is illegal. The Commission takes enforcement action against unlicensed gambling operators." UKGC
In November of 2018 gambling operators received fines totaling over 14 million GBP for a range of offenses, in particular non-compliance with player protection and Anti-money laundering and continue to escalate their crackdown.
"Any online operator that thinks it can ignore its duty to protect players should take note today – there will be consequences. Protecting vulnerable consumers is our prime concern, and it must be the priority for gambling operators too.

"There are robust requirements to safeguard players and prevent money-laundering which all businesses must adhere to if they wish to operate in the British market. I am pleased to see the Gambling Commission taking the strongest possible action when companies fail to meet their obligations." Jeremy Wright, Secretary of State for Digital, Culture, Media and Sport
The Swedish regulator is not empowered to impose fines themselves but must instead refer all illegal acts to the police who then proceed with a legal investigation:
"One of our main tasks is to reduce the number of illegal lotteries and gambling operations. We are, however, not permitted to investigate suspected crimes ourselves. Instead we are to inform the police and prosecutors about our suspicions, mainly through police reports." Spel inspektionen website
It is safe to say that regulators and authorities in many countries have taken the precedence set with Japan to heart and will be clamping down on blockchain gambling in the very near future.
Provision of facilities for gambling
Of course there will be people that say that TRON cannot be held accountable for the illegal actions of Dapps on their platform. This in some ways is true, however, one needs to look at the fine print to see if those arguments would hold up in court. With the Dapps hiding behind a decentralized blockchain, and providing little or no information as to their ownership, many jurisdictions might struggle to find this information.
In such case they will approach TRON as the blockchain operator for this information. Some might even just go ahead and prosecute the TRON foundation under the facilitation of all gambling Dapps as they are providing the means with which the Dapps hide away. Precedence of such action has been attempted by TRON with the agreement with Japanese authorities but as we have seen this falls woefully short at the time of writing.
Time will tell how far regulators are willing to go in pursuing action against the illegal gambling being carried out on the TRON network. Having spoken to regulators ourselves it is clear that they intend to enforce the laws of their respective country to the full, and made it clear that crypto is no barrier to them.
Interesting times ahead then so watch this space for updates as we track developments.
Note: Tron is not the only blockchain under scrutiny of the regulators with regards to illegal gambling. However, this article centers around TRON because of the extraordinarily high volume of traffic and USD value being gambled, and the fact that they have issued a clear statement about Japan, and claim to regulate Dapps on their platform accordingly.
Disclosure: As we have mentioned in previous articles, we do own some TRX and some of the TRC-20 tokens (though none of the above mentioned gambling tokens).
Relevant news