More hype or will Justin actually deliver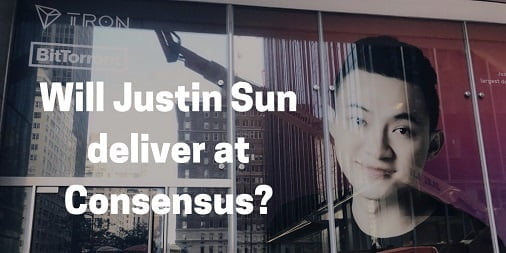 True to form Justin Sun has taken the upcoming Consensus conference as an opportunity to create some TRON hype. Will this announcement of an announcement result in value for the hard suffering investors, or will it once again have as much content as a Eunuch's trousers?
More hype or will Justin actually deliver?
With Consensus, one of the largest cryptocurrency conferences starting today, it will come as no surprise to many that Justin Sun took to Twitter to create some speculation.
#BitTorrent is launching on #TRON in Q2. Glad to also announce another tech giant with hundreds of millions of users will be enabling #TRON ecosys in Q2 as well. Guess who? To be revealed soon on #Consensus2019

— Justin Sun (@justinsuntron) May 13, 2019
As we have seen over time, Justin is famous for his announcements of announcements. These have been subtle and sometimes not so much, especially in relation to the "connection" he has with the CEO of Alibaba. The tweet has of course rekindled the speculation about this announcement (finally) being the big one:
Alibaba is my guess. Do I win some $TRX & $BTT if I'm right?

— ☞???????☜ (@_ogderek) May 13, 2019
Ali baba?

— Carlos Slim (@Carlos59774862) May 13, 2019
As always with Justin's "announcements" some relatively new speculation has been thrown into the mix:
Oracle… pic.twitter.com/yLYOlBCOg1

— James Lefler? (@james_lefler) May 13, 2019
With the crypto markets currently showing signs of a possible bull run many long-term holders of TRX will be hoping that they can join the party. This announcement having significant substance could certainly be the catalyst.
Other signals are showing up positively for TRON to make a move, they are one of the 4 big sponsors of Consensus:
#TRON is in good company in their "Four Block Sponsor" category of #Consensus2019:

1. @Tronfoundation
2. @Microsoft
3. @coindesk
4. @BitGo#Consensus will do wonders for TRON blockchain in terms of partnerships, announcements, $BTT & $TRX development updates#IAmDecentralized pic.twitter.com/4w0P6XGAm5

— Misha Lederman (@mishalederman) May 13, 2019
The issue of the mysterious delays in prize winners finally receiving (sort of) their Tesla has been resolved:
My contract with Tron was successful, I received a reward worth 28,000 u equivalent to 1 Tesla. and converted by TRX. Thank so much ! Tron and Justin. I Love all. Nice day , so happy . @justinsuntron @Tronfoundation @uzgaroth

— LeoHuynh (@LeoHuynhPro) May 13, 2019
Hello to all, at this time @justinsuntron and @Tronfoundation have delivered the Tesla in value of #TRX (28,000 usd) as the contract was signed, thanks to the entire community and the great team of Tron who fulfilled properly, I feel blessed with all , Thank you.#crypto

— XRP_UzGar ⛓-₿ TRX (@uzgaroth) May 13, 2019
Bullrun, Tesla, illustrious companies sharing the Block 4 sponsors group, everything is looking good, a major announcement could mean the Sun is bypassed by TRX on its way to Betelgeuse….
However, buyer beware. This isn't the first announcement of a mind boggling partnership Justin has made. More often than not he has failed to deliver. Non-delivery on a major partnership could well be the end for Tron with investors finally having enough of the hype machine.
Add to that the news of the defection of the co-founder of Tron along with the strong statements he has made, and although we don't make any investment recommendations here at Wisecryptos, we will say that we are very much taking a watching brief with this latest announcement. As always please DYOR.
Relevant news