Binance Moves $21.7M in Bitcoins as BTC Price Falls to $6,200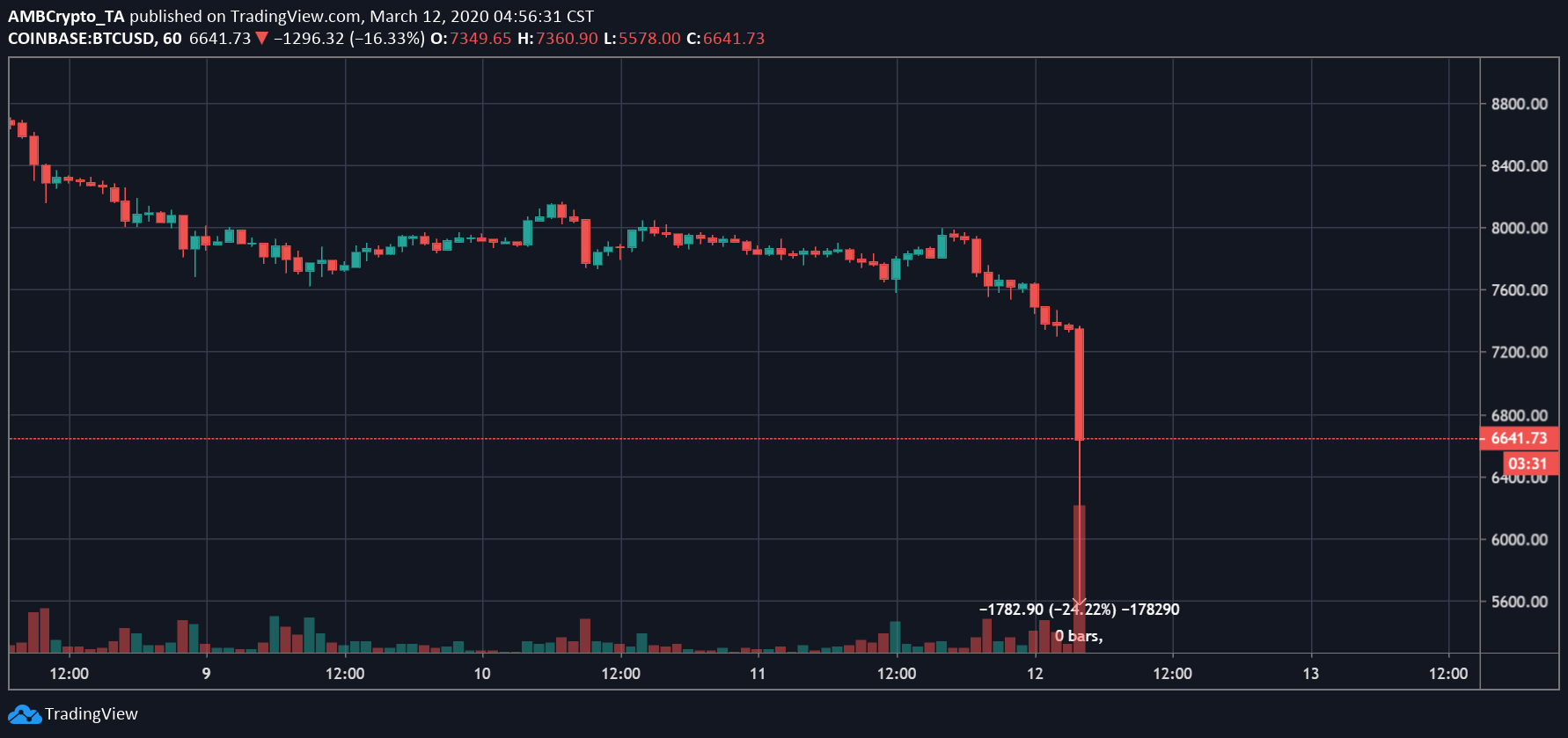 BTC Price plummets drastically as the coin loses 24% in just one hour
The severe plunge has triggered massive BTC liquidations worth $487M
Crypto whales are allegedly pushing the BTC price down to $6,000 in order to buy the dip
On March 12, 2020, the world's leading cryptocurrency, BTC, went on a severe free-fall that resulted in its price plummeting by 24% in just one hour.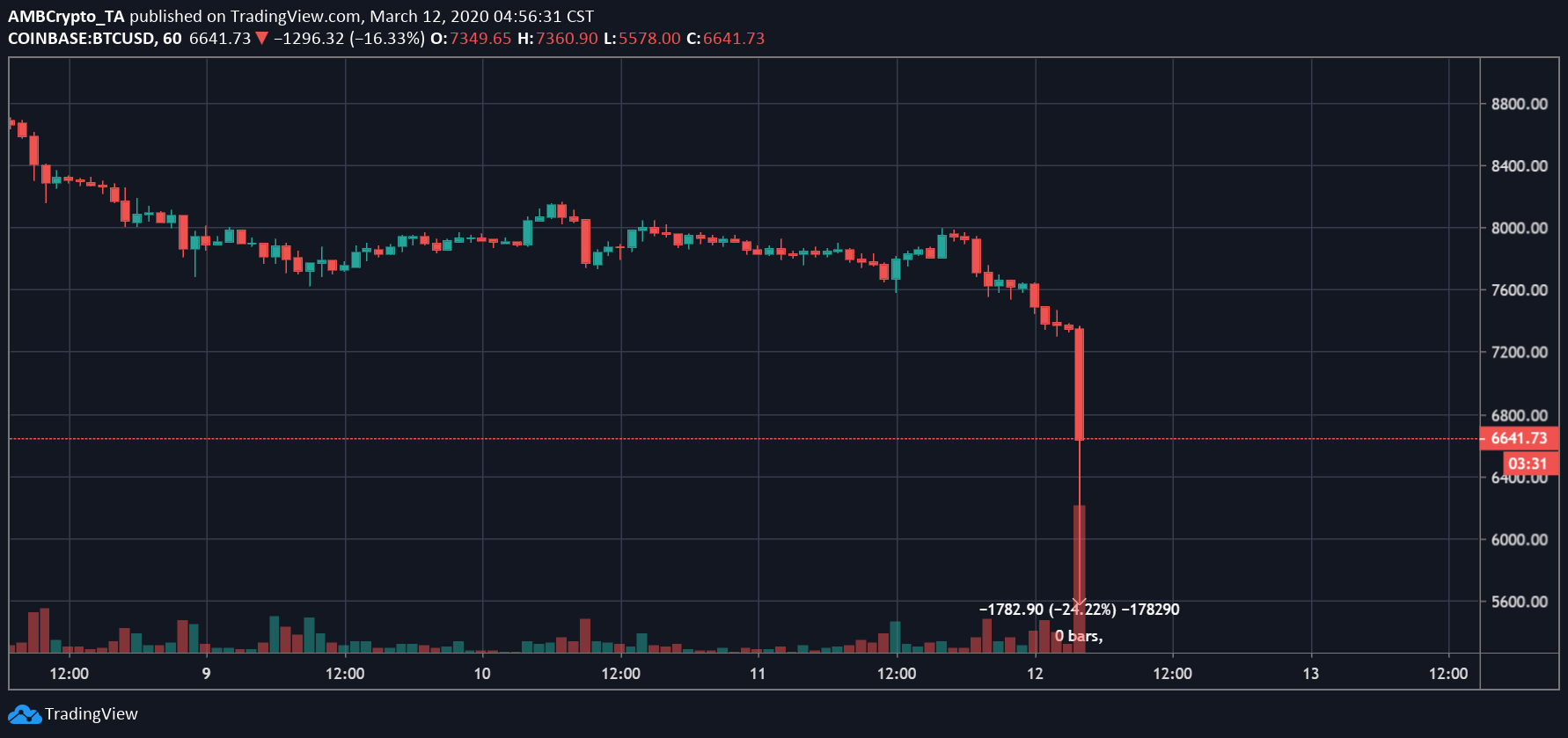 At the time of writing, the price of BTC has just breached the $6,200 mark, according to Coinmarketcap.com. The downward trend has been going on for a few weeks now, with the top crypto dropping from the $7,800 to $7,389 level overnight.
The bearish predictions of top traders are saying that BTC is likely to lose another thousand USD. Just yesterday, Dutch analyst 'Crypto Michael' tweeted that Bitcoin is heading down pretty quickly, setting $6,400 as the next level to be reached.
The drastic crash in the Bitcoin market triggered liquidations worth a whopping $487 million, taking the total liquidations for the day to $543 million. The sell liquidations were about $542 million, whereas the data provider Skew markets reported only $14 million buy liquidations.
The plunge in the price of BTC, which comes after the digital currency managed to break over the $7,950 mark, comes as the stock market enters a perilous zone because of fears of a greater outbreak over the COVID-19 disease.
$21.7M Worth of Bitcoin Moved
While Bitcoin continues to decline, giant amounts of Bitcoin keep moving between unregistered wallets and crypto exchanges.
Over the last couple of hours, Whale Alert has detected two consecutive transactions in BTC worth about $21.7M. The transfer was made between crypto wallets of the Binance, the largest exchange on the crypto space.
The current plunge of BTC seems to confirm suspicions from @SinkTrader, who just a few days ago reminded the community of the current global market recession with the coronavirus narrative as a major trigger.
He also speculated that crypto whales are pushing the BTC price down to $6,000 in order to buy the dip before the next bull market breaks out.
As for where BTC market prices are likely to go, crypto Trader @FeraSY1 calculates that this is the first time the global market has faced a major sell-off, so nobody can accurately predict what will happen to BTC prices in the near future.
Meanwhile, altcoins continue to see heavy losses across the board, as crypto prices move in step with panic on traditional markets over coronavirus measures enacted by the US.
Can Bitcoin Bulls Restore Prices
Some traders and analysts think that the outlook of BTC is not as bad as most investors and members of the crypto community are pointing it out to be.
Adaptive Capital's Nik Yaremchuk, who predicted the return of BTC to $9,500 at the end of Feb, suggested that the token is in the middle of a typical bottoming pattern.
While there is a bullish technical outlook, there are still chances of the macro outlook getting worse, which is evident by the fast-growing number of Coronavirus cases, especially in Europe and the US.
Relevant news