Online Blackjack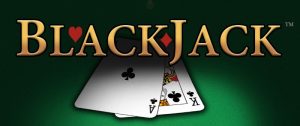 About online blackjack
As one of the most loved online casino games, there is no shortage of places you play blackjack online. Of course, some places are more appealing than others because they can offer a wider selection of games, and titles from numerous developers. What kinds of blackjack games are available for you, though, and where can you can find them? Let's take a closer look at online blackjack.
Almost all blackjack games adopt the same rules. By and large, they will all allow you to hit and stand, to double down, take insurance and split hands, although admittedly, not all will permit the splitting of aces.
There are, of course, any number of different blackjack variants out there for you to play, too. Some of those offer a surrender option, which can effectively see players fold their hand in exchange for half their bet back. Other blackjack variants can see both the dealer's cards exposed (Double Exposure), can see you switch cards between multiple hands (Blackjack Switch) and countless other options. All these blackjack variants will alter the payouts you can receive for certain hands, and they will also adjust the house edge accordingly. The trick is finding the ideal blackjack game for you, based on the rules you want, the house edge and the payouts you're looking for. You've got plenty of options.
Other blackjack games come with side-bets. The Perfect Pairs side-bet, for instance, allows players to bet whether they will have a pair in their opening hand, whilst others allow you to wager on landing poker hands throughout gameplay. Some blackjack games can be played for specific stakes, taking on low, medium or high-roller aspects, to cater for everybody in the online casino world.
Which casino software providers make blackjack games?
Almost all the major developers have produced blackjack games at some point. Microgaming, NetEnt, Playtech and all the major developers of casino games have given it a go. Moreover, many of these developers have also produced countless blackjack variants, too, to give their players more choice.
A good rule of thumb is to say that if any casino software provider has developed table games, then you are more than likely to find at least classic blackjack, if not a handful of different blackjack variants in their gaming portfolio.
Of course, some casinos feature software from many different casino software providers at the same time, and this means that you can ramp up the number of options you have open to you when it comes to blackjack variants.
Where can I play online blackjack?
There is no shortage of places to play blackjack online. Almost all major gambling sites have blackjack games in some shape or form. Of course, the largest selection of these can be found at online casinos. It is at these sites that you are likely to come across numerous blackjack variants, too. However, online poker sites, bingo sites and sportsbooks have all been known to offer blackjack games before, and you can often find some in-house titles at mobile casinos and bitcoin casino sites.
Another option to have a look at are blackjack sites. Believe it or not, there are a handful of blackjack specialist websites out there, whose only purpose is to offer both free play and real money blackjack games. In most cases, these sites will also offer you the chance to learn some tips of the trade, via blackjack schools and strategy guides.
Given the popularity of blackjack – it is easily one of the internet and land-based gambling worlds' most popular card games – you shouldn't encounter any difficulties whatsoever in finding somewhere to play your favourite blackjack games online.
The history of blackjack online
The history of blackjack is just as cloudy as that of many other casino card games. By and large, most people think blackjack originated in France. Interestingly, one of the first references made to blackjack was in a short story written by Miguel de Cervante. A 17th Century Spanish writer who was made famous when he penned Don Quixote. This story dates to between 1601, and 1602, and features a pair of cheats in the game of Ventiuna. It is surely no coincidence that Ventiuna means twenty-one, the same name that blackjack goes by. The implication is that this game was played in Spain in the early 17th Century, although there are rumours of it being played in Italy and England even before then.
Like most casino card games, it has been around for some time. However, it has really made its name as blackjack and has transitioned into the online gaming world with millions of fans playing these days. The version we're looking at has been developed by Playtech and is available to play at many of the internet's leading online casinos. If you happen to be a novice, you needn't worry. Blackjack is a rather basic and easy to learn game and it can be played in demo mode until you feel sufficiently confident enough to play a real money game. Some people say blackjack is a game of skill and others a game of luck. Strategies can be used if you wish, though, though none guarantee success.
How to Play Blackjack
When we talk about casino card games, blackjack (also known as 21) is one of the most popularly played of this genre of games. Casino card games like blackjack involve a dealer and a player, but players compete against the dealer and not against one another. Fundamentally the objective is just to beat the dealer (not to hit 21, which is a myth), and this is done in several ways.
In the modern versions of the game, a "blackjack" is a hand which consists of an ace plus a 10 or a face card. This is the ideal hand with which to win, as it guarantees instant success – unless the dealer has the same hand, then it a push. Blackjack is played with one or more decks (up to 8 decks) of fifty-two cards, depending on the version of the game being played. Also, each variant is something different from its counterparts. This one is based on Vegas Strip rules, and this game makes use of a six-deck shoe.
Hand rankings in blackjack are very simple and this never changes, no matter which variant you are playing. Numbered cards from 2 to 10 are worth their face value, an ace can be either an 11 or 1-point card, and face cards – Jacks, Queens, and Kings are worth 10 points each. Suits and colours make no difference to these hand rankings.
Cards are dealt to the player face up, and one up, one down to the dealer. The aim of the game is to beat the dealer (by getting as close to 21 points as you can). Say, for example, the player gets 18 points made up of a Jack and an 8, and the dealer receives 17 made up of a Queen and a 7, then the player wins as 18 points is closer to 21 than 17 is. If either the dealer or the player goes over 21 points, then the hand is bust, and they lose the game.
If an ace is the face-up card of the dealer, then the player is offered insurance. Insurance bets involve placing an additional bet that the dealer has 21 in their hand. If they do, the player wins a secondary prize, even if they lose the hand. If they do not, they lose their side-bet. Players can also hit (take another card), stand (stick with what they have), double (place a bet equal to their first but only take one more card) or split identical cards into two hands (at the cost of another bet).
After the player has made his choices the dealer reveals the face down card. He may or may not draw additional cards depending on his hand. Both hands are then compared, and the winner is announced. Dealers must draw to at least 16 and stand on all 17's in this blackjack game, and most other blackjack variants.
Wagering and Winnings
Playtech's version of blackjack can be played in either single or multi-hand editions, the latter offering gameplay with up to five hands simultaneously. Chips range from 1.00 through 5.00, 10.00, 25.00, 100.00, 500.00 and 1000.00, with the lowest wager set at 1.00, and the maximum set at 10 1000.00 per hand. This naturally makes blackjack perfect game for high rollers.
Players who managed to beat the dealer with any hand at all will pocket wins worth 1:1. Should they beat the dealer with blackjack (a 21-point hand) they will win at 3:2. A successful insurance bet is paid out at 2:1.
Relevant news