LocalEthereum Exchange Adds Support for Bitcoin After Rebranding to LocalCryptos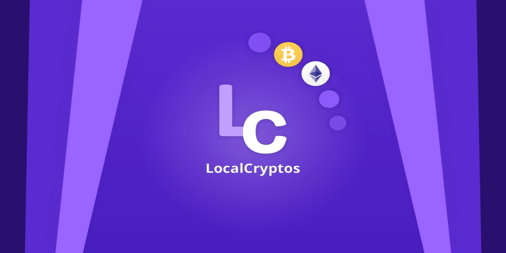 LocalEthereum, a direct competitor for peer-to-peer (P2P) platform LocalBitcoins, rebrands to LocalCryptos as a new initiative to support other digital assets, including Bitcoin (BTC).
By rebranding, the platform will continue being a one-stop-shop for fiat-to-crypto ramps worldwide, beginning with BTC and ETH. The most significant change, for now, is that users can exchange BTC P2P on LocalCryptos. Bitcoin escrows on LocalCryptos will use a non-custodial system with P2WSH addresses.
In a blog post, the exchange stated:
"This is a large milestone for the platform and our community of more than 100,000 peer-to-peer traders. More than a name change, LocalCryptos is a leap toward making true peer-to-peer trading available to everyone."
LocalCryptos' rebranding is a major milestone to ensure that users have access to many digital assets. The trading platform is primarily eyeing a bigger market share by adding support for BTC.
LocalCryptos Looking To Take On Rival LocalBitcoins
Michael Foster, CEO of LocalCryptos, told reporters that unlike LocalBitcoins, LocalCryptos is non-custodial, end-to-end encrypted, and completely private. 
This essentially means that when trading on LocalCryptos, only users know their private key, and no third party, including LocalCryptos, ever takes custody of user coins, making it impossible for LocalCryptos or any hacker to freeze or seize users' digital assets. 
In this way, the platform is able to put the user first by ensuring that he or she remains in control of the private keys at all times.
Foster added that trading platforms such as LocalBitcoins are centralized, custodial, and a far cry from private, noting that such platforms are vulnerable to hacks and thefts like a centralized exchange.
With its non-custodial pitch, LocalCryptos seems set to take on rival LocalsBitcoin to become the new leader in P2P fiat-to-crypto trading. The move could also help create a more secure exchanges. 
LocalEthereum Driving Crypto Adoption Globally
LocalEthereum, which is now LocalCryptos, serves more than 100,000 users worldwide. On a normal day, there are roughly 1,500 online users in 70 countries, and 450 completed trades.
In terms of trading volumes, the platform has seen $3 million worth of fiat-to-crypto trades per month, from 139 countries, making it the largest non-custodial P2P Bitcoin platform.
The non-custodial P20 platform plans to further foster crypto adoption by developing a new smart contract to handle ERC20s, and, in the more distant future, ERC721, so as to support more digital assets.          
It also plans to make user-migration from rival LocalBitcoins stress-free, by allowing them to import their "earned reputation" directly on to its platform. This means that long-time P2P LocalBitcoins traders won't need to start over on LocalCryptos. 
Relevant news