Institutions stay away from Bitcoin as Bakkt launch flops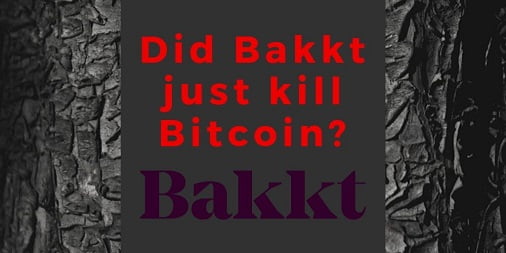 The launch of Bakkt was widely touted by the Bitcoin Maximalists as the start of Bitcoins rise to 100k or 250k or even 1 million dollars. More credible sources however have been warning us the Bakkt launch will be a damp squib and so it has so far proven.
Despite being years in the making and after 2 major delays before launch, when Bakkt finally opened it's doors at midnight, there was no furore and no queing around the block to be first in. As of the time of writing just 26 bitcoin contracts have been opened and Bitcoins price is on the decline. Granted this number is set to rise over the coming days as millionaire and billionaire investors snap up one or two Bitcoins "just in case, you never know" but the massive explosion of buying is not happening.
"To me, Bitcoin is garbage," – Kevin 'Mr Wonderful' O'Leary
Institutional investors are very careful with their money, it is how they got to where they are now. And they are not interested in a 'product' with zero utility, terrible fundamentals, environmentally disgraceful, no real legal liquidity, no use case, no credible developers, cheerleaders or backing and which is so slow and expensive that it is a worse means of exchange than the existing fiat currencies.
The hope for the Bitcoin Maxis was that they could sell their stockpile on to the institutions but nothing seems further from the truth as was seen by VanEck calceling their ETF earlier this month:
VanEck cancelled their ETF after only 4 BTC worth of blocks sold.

So far Bakkt has doubled that to a whopping 8 BTC.

Institutional money… ain't excited.

— Brrrrryce Weiner (@BryceWeiner) September 23, 2019
Bitcoin is now in serious trouble, in fact the entire cryptocurrency market is in trouble. What is now needed is for a new leader to emerge, a leader with real world use cases, real partners and leadership, real adoption and true utility. Utility is what is going to drive crypto forward into stage 2 and drive real institutional investment.
Let us take a closer look at what some of the worlds greatest business minds have been saying about Bitcoin…
Bitcoin Quotes:
"Bitcoin is mostly about anonymous transactions, and I don't think over time that's a good way to go. I'm a huge believe in digital currency… but doing it on an anonymous basis I think that leads to some abuses, so I'm not involved in Bitcoin." – Bill Gates
"It is a delusion, basically," – Warren Buffett
"Bitcoin has no unique value at all," – Warren Buffett
"It attracts charlatans," – Warren Buffett
"Bitcoin is probably rat poison squared," – Warren Buffett
"To me, it's garbage," – Kevin 'Mr Wonderful' O'Leary
"there's just no value there," – Bill Harris
"The cult of bitcoin [makes] many claims — that it's instant, free, scalable, efficient, secure, globally accepted and useful — it is none of those things," – Bill Harris
"Bitcoin is a colossal pump-and-dump scheme, the likes of which the world has never seen." – Bill Harris
Relevant news