Gifto exits Ethereum and migrates to Binance chain (not Tron, sorry Justin)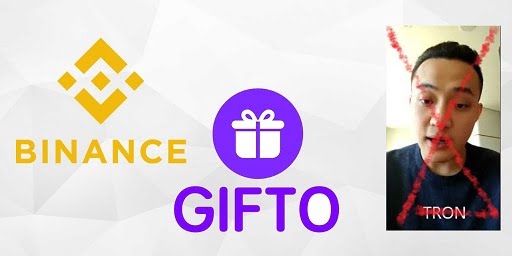 Remember back in 2017 (and early 2018) when Justin Sun couldn't stop talking about their so called partnership with Gifto? Remember Justin announcing them running for Tron SR? Remember the hype and the announcements of announcements? Just another day in the crazy world of fake Tron promises with nothing to back them up. Clearly Gifto have seen something badly wrong at Tron as they silently pulled the plug on the move to Tronnet and stayed on the Ethereum platform until a better solution was found.
Instead, rather than migrating to the Tron network, Gifto have chosen to leave Ethereum for the Binance Chain. I fear many more alleged Tron partners will be choosing Binance Chain as well as a few projects listed on Tron at the moment also moving away from the tarnished and tainted Tron Network and switching to Binance Chain.
Mass adoption token meets mass adoption chain: Gifto migrates to Binance Chain
Gifto Official 24/04/2019:
Today marks a leap forward for Gifto.
In our quest for making Gifto the most widely-used token by mainstream users, we've pushed the boundaries on what's possible building an Ethereum web wallet that is secure, easy to use, and fast.
While we have tremendous respect for what the Ethereum community has built, it's time for Gifto and the Gifto Wallet to move to a new blockchain that better suits our aggressive plans for mainstream adoption; one where the real usage and growth of the Gifto ecosystem can be shown today without incurring massive fees or slow transaction times which negatively impact user experience.
So, without further ado: Binance Chain, here we come.
Binance Chain aims to be a fast chain for digital asset transactions. Currently, the crypto world's biggest need is to get more non-crypto mass users, and therefore funds, into the market. Binance Chain is uniquely positioned to support this and thus accelerate mass adoption of crypto and consumer acceptance of blockchain tech.
Hard truth: for the 99.9% of the billions of internet users out there, crypto is just too difficult to use. In order to make a simple payment with crypto, a new user needs to:
Download a wallet
Set up a private key
Estimate the gas fee and initiate a transaction
Wait for an indeterminable amount of time to process. Depending on the Ethereum chain traffic and other issues, the transaction may or may not finish.
We at Gifto have already made this flow much simpler for our mass market users in Uplive by hiding all the difficult tasks from them: you can just download Uplive, and voila, your wallet is there to use. Sending virtual gifts to other Gifto users happens instantly in our off-chain wallet infrastructure.
However, most other major consumer applications in the world have not even been able to make this first step, let alone getting their users to use crypto.
"We've supported Gifto from the very beginning as a strong example for one of the first mass adoption tokens. We're thrilled that Gifto will help expand Binance Chain not only for the crypto industry but the mass market beyond it." — Ted Lin, Chief Growth Officer, Binance
But a simple-to-use wallet is not enough. Eventually, we want to move on-chain. For a global consumer company like us, with now close to a hundred million users in Uplive, we would have to pay significant fees a year for all Gifto Wallet transactions to be processed on Ethereum. And as mentioned before, these transactions cannot be guaranteed to finish quickly and predictably. Mass market users expect the opposite experience: low fixed fees and instant, predictable processing, just like in current fiat world.
This experience is exactly what the first version of Binance Chain delivers, with less-than-one-second confirmations and a small, fixed-amount BNB transaction fee.
Let's face it, fancy features like smart contracts are great, but when they slow down transactions and open up security vulnerabilities, they are not worth it if all you want to do is to pay crypto currency for a virtual gift. As consumer application developers, we should not need a sub-industry of smart contract security audit companies every time we want to add a crypto payment method to our apps.
Beyond the chain's features, why would Gifto put trust into one chain backed by one company? Doesn't that go against the spirit of decentralization that is at the core of blockchain?
Having worked closely with Binance since we were the first project on Binance Launchpad, we believe the pros outweigh any risks. Binance has built a fast-processing, scalable, and operating blockchain in just 6 months, which few projects have done. Binance Chain will continue to benefit from the product execution capability honed from operating Binance exchange, one of the largest volume exchanges and fastest-growing consumer products in the world. And finally, Binance Chain will have instant access to Binance.com's millions of users, which will help it mature quickly.
The crypto world has always been a mix of centralization and decentralization. De-centralization promotes trust (or operates in a lack of trust), and centralization provides speed and convenience. In the real consumer world where consumers expect things to run quickly and predictably FIRST, some degree of centralization is needed.
As a global consumer product company ourselves, we think that in addition to being a fast digital asset transaction chain, Binance Chain can also help to enable other mass-market, non-crypto applications to deploy crypto faster and easier. We ourselves are looking forward to working with Binance Chain on a deeper basis, and to develop more applications that operate on it.
How Gifto uses Binance Chain
Our first step will be to support the migration of Gifto ERC20 tokens to BEP2 tokens on Binance.com. The actual timing and process will be announced together with Binance once the Binance Chain mainnet is launched and stable on Binance.com
Our second step will be to support Binance Chain tokens in Gifto Wallet, enabling BEP2 token to be used alongside Gifto ERC20.
Thereafter, we can begin more rollout of the Gifto wallet across a number of 3rd-party apps that are already in discussion. We are sure that more interesting implementations will come up as we start using Binance Chain on a large scale. Imagine the worlds' billions of gamers, streamers, and creators buying, playing with, and exchanging virtual currencies and digital assets instantly and securely… That's where we're headed with the Gifto Wallet and Binance Chain.
Migration Process — Note to Gifto Users
This migration will be very different from a typical mainnet migration, in that Binance and Gifto will support both ERC20 and BEP2 GTO tokens in parallel. Current trading and usage of Gifto tokens will not be impacted. The actual migration will not be forced, rather, will be user-led.
Once migration starts, any user can choose to convert their ERC20 GTO tokens to BEP2 on Binance.com, at their own time. ERC20 GTO token trading will not be affected. See below for details:
ERC20 GTO tokens can, for at least one more year, be used in the Gifto Wallet in Gifto apps including Uplive and Giftomon as well as www.binance.com.
In a few weeks, users will be able to deposit ERC20 GTO to www.binance.com for conversion to BEP2 GTO.
Within the next few months, the Gifto Wallet will become compatible with BEP2 GTO (Gifto tokens on Binance Chain) as well as BEP2 BNB.
Over at least the next year, the Gifto Wallet will support both flavors of the Gifto token — both ERC20 and BEP2, and display them both as a unified GTO token in the Gifto Wallet.
Longer-term, we plan for the Wallet to continue supporting Ethereum assets. Welcome to the cross-chain world!
###
---
Here follows 2 of press releases made by Justin Sun and Tron regarding the failed Tron-Gifto partnership
---
Tron Foundation, Dec 8, 2017:
Gifto and TRON partner to monetize decentralized content
The blockchain 'virtual gifting' platform partners with the global entertainment ecosystem to bring decentralized content creation monetization to millions of consumers
HONG KONG — Gifto, a new universal virtual gifting blockchain platform, has announced a partnership with TRON, a decentralized protocol that aims to construct a worldwide free content entertainment system using blockchain and distributed storage technology. Gifto will leverage TRON's underlying technology to help facilitate massive transactions of users using virtual gifts.
"Gifto and TRON are both innovating the content creation space using blockchain technology and together we will be able to offer anyone an alternative to the standard model of content creation ownership and monetization that is available today," said Andy Tian, the former head of Zynga China and now the CEO of Asia Innovations Group (AIG) — the creator of Gifto. "Very soon, content creators will enjoy the benefit of blockchain technology and we are thrilled to partner with Tron to help make this a reality."
Gifto is being launched by Asia Innovation Group, the creator of Uplive, a live streaming mobile application with over 20 million users that uses virtual gifting to reward content creators on their platform. Every month, millions of people use Uplive to view livestreamed content from over 60,000 content creators on their platform. The company has stated that it will earn over $100 million of projected revenue in 2017 alone from virtual gifting on Uplive. With Gifto, this technology is being brought to the blockchain and made universal so that virtual gifts can be created, curated, tracked, bought, sent and exchanged across any content platform such as YouTube, Instagram, and Facebook.
"We are excited to partner with Gifto and Asia Innovations Group to further expand the usage of TRON platform and technology," said Justin Sun the founder of TRON and a member of the Forbes Asia 30 under 30. "This partnership is putting together two companies that both have successful consumer entertainment apps, and both using blockchain technology to disrupt entire industries in the years to come."
TRON is a decentralized content protocol that aims to establish a global free content entertainment ecosystem through blockchain technology. It allows each user to freely publish, store, and own data. The content creators will be empowered through the free creation, circulation, and trading of digital assets under decentralized self-governance. TRON will be one of the first Ethereum compatible protocols to support fast micro-transactions at scale in Q1 2018. TRON will use its transaction technology to support Gifto's roll out to millions of users.
Tron was founded by Justin Sun, the former Greater China chief representative of Ripple. Justin was featured in 2015 and 2017 Forbes Asia 30 under 30 and was a member of the first cohort of entrepreneurs at Hupan University, an elite business school established by Jack Ma, the founder of Alibaba Group.
###
---
Tron Foundation, Apr 14, 2018:
Gifto to Run for TRON Super Representative
Justin Sun, founder of TRON, published his "Letter to the TRON Community: On Super Representative Elections" on April 12th. The letter announced the first Super Representatives Election for June 26, 2018, where 27 SRs will be elected, laying the foundation for a self-governed community with a general election. That same day, Gifto CEO Andy Tian announced Gifto's intent to run for TRON SR. Gifto is a decentralized universal gifting protocol and one of TRON's strategic partners with 35M users — the most existing users to hold tokens.
###
---
Relevant news