QuadrigaCX and the epic $190m exit scam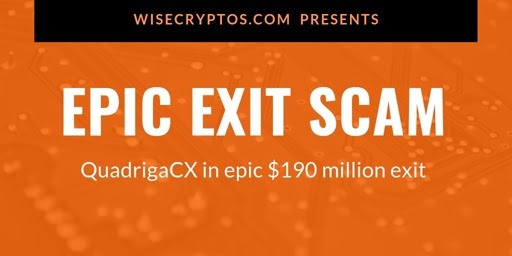 Well this story is one hell of a can of worms isn't it… a very difficult one to blog about whilst being both sensitive and at the same time investigative. But I will try my best not to let cynicism get the better of me. In case you missed it, this story centres around the 30 year old CEO of QuadrigaCX Gerald Cotten who reportedly died of Chrons' disease whilst in Jaipur, India on 9th December 2018.
Many websites are speculating that Mr Cotten actually faked his own death based on the suspicious circumstances surrounding his death. While Chron's disease is not fatal in itself, deaths from complications due to Chron's disease do occur on very rare occasions. These occasions are mainly either during surgery (most Chron's sufferers will undergo some form of surgery at some point during their life, though we can rule this out in the case of Mr Cotten) and due to cancer (Chron's patients have an increased rate of colorectal and intestinal cancers). Given the report that Mr Cotten signed his will in the weeks leading up to his death (the will is dated November 27th) he may well have been suffering from cancer though as the stated cause of death is Chron's disease and there is no record of him having any other treatment we can probably rule this out as well.
A family member of Mr Cotten stated that his body was back in Canada though there is no record of this and other sources claim he was cremated in India. No official death certificate has yet surfaced, only a Canadian funeral home record which is being passed off as a death certificate. Ok, now I must apologise for letting my cynicism take over. The entire story does not check out in any form however my condolances do go out to the bereaved in the event that Mr Cotten did in fact pass away.
Wow, this is a very difficult blog to write. I feel that my introduction is probably very disrespectful and I apologise once again to the family. So let's try and turn this around somehow and start again.
Gerald Cotten (CEO of QuadrigaCX) passed away leaving nobody with access to the 190m stored in cold wallets.
One has to question any crypto exchange which has all their assets stored on one laptop, which only the terminally ill CEO knows the password to and with no backup codes anywhere. Obviously this part of the story is nothing but bull shit for a number of reasons:
Gerald Cotten signed a will and testament 12 days before his passing – He would have included access to the cold storage and his laptop in this document.
A security team could not gain access to his encrypted laptop – Encryption systems provided by Microsoft Bitlocker, RSA, Sophos Safeguard, Check Point, Symantec, etc all have recovery protocols which in this case would allow the widow to access his laptop. Weaker software like McAfee and other cheap solutions would be hackable by many decent hackers.
A cryptocurrency exchange holding such vast sums of crypto would have many fail safes in place like key codes locked away in a bank vault. With 190m at stake nobody would allow two single points of failure (one human being and/or one laptop).
Mr Cotten was an avid traveller and well known in the crypto community, allegedly therefore traveling around with such sums of money on his person (laptop) is insane to contemplate.
Only the most incompetent of companies would place themselves in this predicament and the above simple points makes the exit scam self evident.
QuadrigaCX and the epic $190m exit scam
Putting Mr Gerald Cotten aside we can see a number of glaring points over the past few years pointing to an exit scam being enacted by either Mr Cotten himself, his widow or the remaining partners and executives at QuadrigaCX:
There have been countless complaints from QuadrigaCX customers of not having access to their funds, not receiving any customer support or worse, having their funds dissapear altogether.
The cryptocurrency exchange has no corporate bank account at all (QuadrigaCX are currently still locked in a legal dispute with the Canadian Imperial Bank of Commerce (CIBC)).
Customer withdrawals (when they did happen) took extremely long to process with transaction reports indicating the exchange having to wait for sufficient fiat deposits before being able to process fiat withdrawals.
Further reports indicate the exchange never held close to the amount of BTC, ETH etc they were allowing trading based on. It appears that there are no identifiable cold wallet reserves for QuadrigaCX. According to the research, QuadrigaCX likely only had cryptocurrency reserves of under $100 million.
According to research: It does not appear that QuadrigaCX has lost access to their Bitcoin holdings, It is worth noting that there are several outgoing transactions that have been made since the alleged date of Gerald Cotten's passing (December 9th, 2018).
QuadrigaCX owned Litecoin apears to be on the move still.
Use a reputable exchange or buy a hard wallet.
It is clear no matter what the real truth is in the QuadrigaCX story, it is a story of an epic exit scam of some form by yet another unscrupulous exchange. The sooner regulations are sorted out in the crypto space the better so we can rid ourselves of these rogue exchanges (and scam coins, ico's etc of course). If you own crypto then either buy yourself a hardware wallet or two, or store your crypto on a reputable and protected exchange like Binance Jersey / Binance Malta which in my opinion is streets ahead the best exchange on the planet right now.
---
Message from QuadrigaCX Board of Directors
January 31, 2019
Dear Customers,
An application for creditor protection in accordance with the Companies' Creditors Arrangement Act (CCAA) was filed today in the Nova Scotia Supreme Court to allow us the opportunity to address the significant financial issues that have affected our ability to serve our customers. The Court is being asked at a preliminary hearing on Tuesday February 5 to appoint a monitor, Ernst & Young Inc., as an independent third party to oversee these proceedings.
For the past weeks, we have worked extensively to address our liquidity issues, which include attempting to locate and secure our very significant cryptocurrency reserves held in cold wallets, and that are required to satisfy customer cryptocurrency balances on deposit, as well as sourcing a financial institution to accept the bank drafts that are to be transferred to us. Unfortunately, these efforts have not been successful. Further updates will be issued after the hearing.
Relevant news