Litecoin Crypto Rating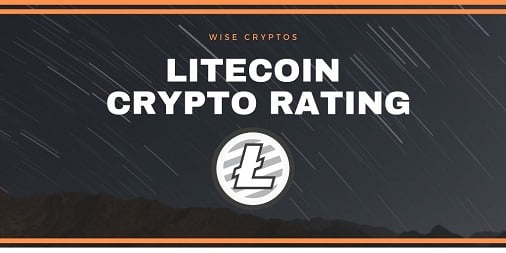 Unlike most cryptocurrency ratings published online, the Wise Crypto ratings have nothing to do with the current or future price of the currency. Whether or not a crypto is over or undervalued or priced today is completely irrelevant. Our research focuses on the sustainability of each project, the security, the use case, decentralisation, environmental impact, the technology, the scalability and the developers and teams behind the projects.
Litecoin (LTC) Rating = 128/1000
Technology (0 to 300) = 78
Speed (0 to 50) = 3
Litecoin has an average speed of 30 minutes, almost similar to bitcoin. Although users can make a maximum of 56 transactions per second in the Litecoin network, 30 minutes for a single transaction is still too much time and more should be done to improve the speed.
Cost (0 to 50) = 35
Litecoin was created to provide a faster and cheaper alternative to bitcoin (BTC) and started at the $4.30 price mark. Currently, Litecoin's minimum transaction and relay fees are set by default at 0.001 LTC/kB. This means that transferring $99 million in Litecoin will only cost you $0.40 in transaction fees, which is close to free. It can't get much better than this.
Scalability (0 to 50) = 10
Litecoin claims to solve scalability issues which are evinced in Bitcoin. To some extent, this is true because LTC can scale better than most proof of work cryptocurrencies.The LTC network can handle 56 tx/s, which is more than BTC and ETH combined. Moreover, it would take time before the platform experiences scalability issues thanks to the Lighting Network and SegWit, which are already implemented in the platform. This is still a far cry from the top end cryptos like XRP though.
Reliability (0 to 50) = 15
Litecoin shows a fairly high quality of stability. Over the three past months, the Litecoin network hash has increased from 143.4 TH /s to 342 TH/s. Currently, Ethereum and Bitcoin have lower hash rates compared to Litecoin, which has more active addresses as well as the number of transactions. However, the 51% attacks cannot be neglected when it comes to reliability, and more should be done to prevent such future attacks.
Environmental Impact (0 to 50) = 5
Similar to Bitcoin, Litecoin operates on the POW (proof of work) model where miners are awarded coins for solving complex cryptographic problems which require lots of computation power. Mining Litecoin, therefore, requires plenty of electricity which may not be environmentally friendly. However, unlike Bitcoin, Litecoin has minimal environmental impacts since the network has far fewer miners. Should Litecoin ever be used in any real volume the same problems would likely occur as with Bitcoin.
Decentralization (0 to 50) = 10
Litecoin claims to be decentralized without any central authorities. However, during an incident of 51% attacks, the crypto space was awash with the question of if Litecoin was actually decentralized. However, Litecoin's founder, Charlie Lee, was quick to assure its community that a decentralized crypto is by definition vulnerable to 51% attacks – whether by hash rate, stake, and/or other permission-less acquirable resources. Therefore, if a crypto can't be 51% attacked, it is permissioned and centralized – an absolutely absurd argument.
Additionally, the move by Lee to sell his entire stash of Litecoins (at all time high prices we should add) because of "conflicts of interest" is a clear indication that he wants you to believe the coin is decentralized. Nonetheless, Litecoin's decentralization, just like any other cryptocurrencies, is limited by whales who control a significant stake of the coin and determine the price in certain instances.
All evidence points to Litecoin being at least as centralised as Bitcoin and with Charlie Lee in charge and pushing his strange propoganda.
Security (-350 to 0) = -150
Dusting attacks (-100 to 0) = -50
Litecoin's security has been undermined by several attacks, including the large-scale dust attack that targeted users who had an active Litecoin address at the time of the attack. Almost 300,000 LTC addresses were attacked, putting the users' LTC coins at risk.
Reorg, 51% & Brute Force Attack (-100 to 0) = -80
As aforementioned, Litecoin is susceptible to the 51% attacks where a group of miners controlling more than 50% of the network's mining hash rate can cause network disruption. 51%-attacks has major implications to the Litecoin network damaging the cryptocurrency market price and cause immense losses to accrue the hash power needed to stop the attacks.
Potential For Being Banned (-100 to 0) = -50
Governments and regulators are likely to target privacy coins first but due to the huge environmental impact of Proof of Work coins like Litecoin are in danger.
Network Vulnerabilities (-50 to 0) = -30
Litecoin is one of the older and larger cryptocurrency and as such there are enough groups with vested interests to keep the network secure for the moment.
Use Case (0 to 500) = 250
Initial Main Use Case (0 to 100) = 30
Litecoin's main use case is a medium of exchange. LTC is currently the a preferred cryptocurrency used as a medium of exchange thanks to its ability to relay faster and cheaper transactions than Bitcoin. It touts itself as the most preferred means of payment and has been available to over 33,000 companies and merchants worldwide through various partnerships. We should note these are far from exclusive partnerships though.
Medium of exchange however is not enough to garner a better rating without more fundamentals being in place.
Mainnet/ Testnet (0 to 200) = 200
Litecoin plays an essential role in the cryptocurrency ecosystem as a Testnet for Bitcoin. It has largely been compared to Bitcoin primarily because it was one of the first Bitcoin forks and posed the same functionalities as Bitcoin.
Additional Use Cases (0 to 100) = 0
Litecoin is usually regarded as the "Silver to Bitcoin's Gold, and it's usually considered a store of value. It maintains a similar level of usefulness over time. Which actually means very little indeed.
Additional Working Products (0 to 100) = 20
Litecoin has other working products, including BlockCard that allows users to store their LTCs and exchange then on Bibox Exchange. However, more products should be launched with time although many proposed products such as LitePay have so far been shelved completely.
Core Team, Partnerships & Developers (0 to 200) = 10
Core Team & Developers (0 to 100) = 0
Litecoin Core development team includes a board of directors, 1 or 2 part-time software developers and directors – all led by the dubious Charlie Lee. The fact that Lee sold almost all his Litecoin holdings at all time high shows how willing he is to dump on the Litecoin fans. The disdain shown to the community by pretending it was in their benefit is not the mark of somebody we should trust with such power.
Add to that Charlie Lee's recent admission that there are no full time developers for Litecoin and the admission that the part time devs are only plaguerising code from Bitcoin says how worthless Litecoins team really are.
Partnerships (0 to 100) = 10
Since its launch, Litecoin has made various partnerships with a plenitude of organizations in an attempt to spur cryptocurrency growth. It has partnered with Travale.com, and the Miami Dolphins to promote mainstream adoption as a means of payment. The purchase of a small stake in German WEG bank smacks of a PR stunt as the "bank" is unlicensed and doesn't even have a SSL decurity certificate on it's website. The partnership with TPay (TokenPay) is also worrying.
Litecoin have made a partnership with the Bibox Exchange and with blockchain firm Ternio to release the self dubbed "the only cryptocurrency debit card available to date".
Visit the following page to view the best Litecoin casinos.
Relevant news