Davos, Trump, Ripple's Brad and the Bitcoin narrative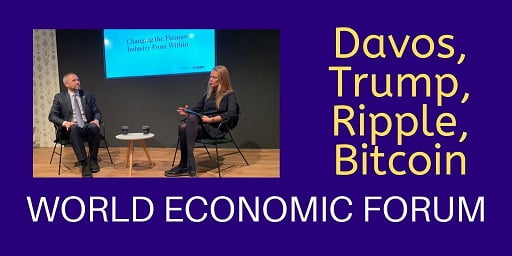 Because the Harry and Megan story is getting a little old, the worlds media attention once again focuses on blinding and scaring everyone with a simple case of the winter sniffles (every year in the USA alone over 50,000 people die directly or indirectly from the common influenza virus and even the humble Norovirus outshines Corona with 500 to 1,000 deaths per year in the United States).
In the meantime we have all forgotten to ask ourselves "wasn't there something going on in Iran?"
I am not here to talk about Iran but instead about the other major newsworthy stories getting buried by fake news this week, which is of course the World Economic Forum happening in Switzerland. There are plenty of reports coming out of Davos if you look hard enough so I am just going to focus on Ripple and Bitcoin.
Trump administration hints at Ripple and XRP backing
It is the worst kept secret in Blockchain that the IMF, the European Central Bank, United States government and many other governments and central banks around the world are heavily backing RippleNet. The annoying thing for everyone is that we are still not seeing the non disclosures broken significantly, rather we are just being spoon-fed little snippets herre and there. Ripple and XRP have been named specifically in a number of US Federal documents recently and were mentioned in the official World Economic Forum toolkit document this week. But these mentions were as examples, hints, but nothing more. Hints we have had from the IMF and many others in the past.
Trump himself at Davos talked about the future of the financial industry without specifically naming any names although of course the XRP community read more into things. US Treasury Secretary Steven Mnuchin went a step further using MoneyGram as prime example of the "level playing field" narrative which has been previosuly used by Ripple many times over the years:
— Jeremiah L. (@akaMachine) July 15, 2019
Ripple CEO – Brad Garlinghouse – went ahead and hinted more about their potential involvement:
.@stevenmnuchin1 at #WEF20 when asked about cryptocurrencies: "There are benefits to cross-border payment systems in lowering costs for consumers and businesses. We absolutely support companies working on this." Critical to apply this pragmatism to US regulation. pic.twitter.com/93e84qQW1s

— Brad Garlinghouse (@bgarlinghouse) January 21, 2020
But once again all we read are hints which does absolutely nothing to help anyone. Chief Tron marketeer Justin Sun posts hints all the time and we all know how that story ends.
What exactly are we waiting for? Of course it takes time to plan, integrate, regulate and distribute something so big as a new global financial revolution. And everyone in power needs their own little piece of this pie, which ties in nicely with the hint (no firm announcement of course, just major hints) that Ripple is going IPO this year as Garlinghouse mentioned at the WEF:
"In the next 12 months, you'll see IPOs in the crypto/blockchain space. We're not going to be the first and we're not going to be the last, but I expect us to be on the leading side… it's a natural evolution for our company."

– @bgarlinghouse at #WEF20
Ripple heavily invested in Bitcoin
Finally we come to the Bitcoin narrative which came up briefly at the WEF.
It was not the global phenomenon a.k.a. political pawn Greta Thunberg who ranted about climate change at the summit – she shied away criticising the disaster that is cryptocurrency proof of work. Clearly we are not ready to kill off this worthless old tech just yet. And Ripple is one of the last bastions of Bitcoin.
Uber shill John McAfee has already ditched Bitcoin:
"Eat my dick in 12 months? A ruse to onboard new users. It worked. Bitcoin was first. It's an ancient technology. All know it. Newer blockchains have privacy, smart contracts, distributed apps and more. Bitcoin is our future? Was the Model T the future of the automobile?"

– John McAfee
Even high profile Bitcoin Maxi shill Anthony Pompliano has ditched the joke Store of Value Narrative:
"Bitcoin has many use cases. Holding is a use case. Transacting is a use case. Mining is a use case. Speculating is a use case. Bitcoin has many use cases."

– Pomp
The only person left who is still using the old Store of Value excuse for Bitcoin is in fact the Ripple CEO despite pointing out the horrendous cost:
"We're here at Davos where climate change is a big topic… 1% of global energy consumption is Bitcoin mining – that is stunning! Running a validator on the XRP Ledger is like running a lightbulb."

"I'm bullish on BTC as a store of value, but not for payments. You don't want to use BTC at Starbucks b/c by the time you get your coffee, it'll be cold."

– @bgarlinghouse speaking to the WSJ
Ripple employees are pushing that last statement which Brad keeps using "I'm bullish on BTC as a store of value."
So why exactly are they doing this? And why do I ponder the claim that Ripple is heavily invested in Bitcoin?
Quite simply because it is very clear that Bitcoin really IS a store of value right now. Bitcoin is hugely important to companies like Ripple, SBI, Santander, MoneyGram, governments (not just because Bitcoin is actually a very clever trojan horse to track criminals and terrorists) and financial institutes all over the world.
Bitcoin is storing most of the value within the cryptocurrency market. Bitcoin is keeping the crypto world afloat and until all the red tape is sorted to properly launch XRP to the masses, the value is temporarily being stored in Bitcoin before it is moved to XRP. There is a lot of work that still needs to be done before the transfer of value can fully happen. You just can't have people like Brad Garlinghouse, Jed McAleb, Chris Larsson, etc all suddenly becoming the richest people in the world through their on paper value of XRP. Ripple cannot just suddenly become the most valuable company in the world overnight.
The grand plan needs to be very carefully executed and to that end Bitcoins one and only use case is to prop up the crypto industry until the real systems are ready.
Relevant news