Coinbase comes under constant attack after supporting XRP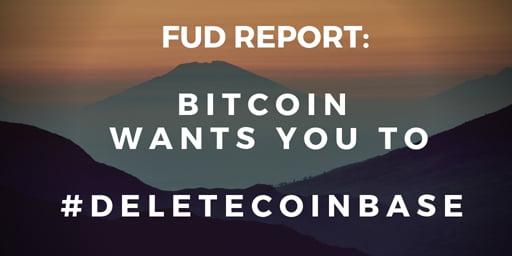 At the end of February both Coinbase and Coinbase Pro finally added support for the XRP cryptocurrency. True to form the Bitcoin Army decided to try and derail XRPs good news and within a couple of days we saw the first major attack on Coinbase, the launch of the #deletecoinbase hashtag and even a dedicated @DeleteCoinbase twitter account which was created on the 2nd of March.This was then followed by a number of other minor and major attacks including a very clever and successful FUD attack gaining mass sympathy from the #XRPCommunity.
The first major attack I think everyone has read about somewhere and is related to Coinbase acquiring startup Neutrino whose employees include former members of controversial HackingTeam. The exact truth about this story is difficult to come by as crypto media has gone full on war mode against Coinbase in the way that (inspired by) Facebook was attacked following the Cambridge Analytics controversy. It does appear that Coinbase is acting in the correct manner following the hysteria but with nobody knowing the exact true story I cannot comment on the right or wrong of the acquisition or the due diligence Coinbase did or did not do prior to the move. What we can say for sure though is that this news was perfectly timed to bring down Coinbase the moment they announced the addition of XRP. A golden nugget hidden in the Bitcoin Armies back pocket released as soon as XRP was added.
Do not be fooled, the major Bitcoin miners, early adopters and holders will do anything in their power to protect their holdings. They have no interest in the technology, in decentralization, libertarian-ism, freedom or the fair spread of wealth to the underprivileged. They will destroy the entire cryptocurrency ecosystem if they have to.
Following the Neutrino outcry a number of other anti-Coinbase stories magically came out of the woodwork including the classic that they are stopping people from closing their accounts. But one of the biggest other success stories comes from the XRP Community who were duped into outcry over a couple of users who alleged Coinbase stole 10,000 XRP they sent to Coinbase without a destination tag. This new ruse was very clever indeed and as Wise Cryptos did not have the time to investigate properly even we were fooled into a hasty attempt to help the affected users out:
We have a family emergency, unsure when we can get report out. We will try our best but family comes first.@CoinbasePro I really hope that you do the right thing in the meantime and when we get back online you will have returned the missing funds.

Clickbait image to be used: pic.twitter.com/EkRiPKJOcm

— Let 'Em Spin (@letemspin) March 6, 2019
I sincerely apologize to Coinbase for the inaccurate post made. I hoped that a click-bait placeholder would help nudge their customer support into action.
Now there have been genuine users who forgot to add a destination tag when depositing to Coinbase however we have not yet seen an official reply to them yet. The Twitter trail is confusing and misleading but following a number of trails we end up at some interesting originating accounts. 1 account being inactive since the 7th of September 2017 and being reactivated this week. Another of the accounts was created on 28th February 2019 and has all the hallmarks of a fake (for rental) Indian Twitter account while another claims to be tech support acting on behalf of the user in question. And the emails purportedly sent by Coinbase support are not in the standard format Coinbase Support uses and include the same grammatical error "Coinbase is not be able to recover your cryptocurrency as it is permanently lost". I smell a rat.
There are genuine users who have had issues with Coinbase. And if you have been affected then please have patience and follow the proper channels. Coinbase is being inundated with service requests, DM's, tweets and emails. The #deletecoinbase movement has seen to it that they are overwhelmed at the moment so have some patience while they sift through the real and the fake calls. There are some great people in the #XRPCommunity who are also willing to help out if they can, people like @WietseWind, @DrT and @HaydenTiff and they have commented on this controversy as well. Please follow and read through the advice they have given though before tagging them as undoubtedly they have answered your questions previously already.
XRP funds are never lost, it is the most secure blockchain there is. All exchanges are able to help you out if you provide the correct information and proof so do not fear the worst.
Personally I am not an active Coinbase user (yet) and I am certainly no great fan of theirs. So writing this post defending them has come as a surprise to even myself but I have to play Devils advocate in this instance as the Bitcoin Army attack on them is ridiculous. In the end their constant disgusting behaviour will negatively impact Bitcoin itself rather than help as they are destroying the entire cryptocurrency industries' public perception.
Your XRP Funds are SAFU (references):
For $XRP DT issue, what we do is to manually allocate the fund that has arrived at our wallet to the rightful customer if there's a missing or wrong destination tag involved. It's a little extra work but always brings happiness to our customers. ? https://t.co/PQFKAeQb0S

— Bitrue (@BitrueOfficial) March 3, 2019
https://twitter.com/XRPTrump/status/1101961110373130240
I can tell you it will help a lot. I added this to XRParrot (if account has flag set: easy, if not: check recent deposits. If tags: notify user). There are ZERO tag errors since the launch of XRParrot 4 months ago 🙂 pic.twitter.com/h0WO4knPfU

— WietseWind { ???????: ???? } (@WietseWind) March 2, 2019
Relevant news