Bulls versus Bears 2017-2018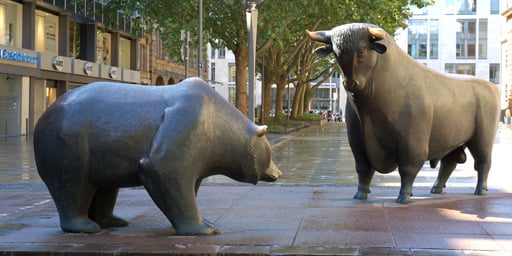 As 2018 winds to a close, we take a quick look back over the past 365 days. In bulls versus bears 2017-2018 we address the top-10 coins as per market cap.
Bulls versus bears 2017-2018:
On the 30th December 2017 the crypto market was riding the crest of a bull market. Social media was full of stories of "Lambos" (Lamborghini) the apparent preferred mode of transport for the crypto nouveau riche. Every man and his dog was on a financial voyage to the "moon" and beyond. Cryptocurrencies were a trending topic for mainstream news outlets around the world, and everything was looking peachy. Click-bait media was full of "experts" claiming that Bitcoin would be worth anything from $30k-$250k.
Exactly 365 days later it's time to say "What a difference a year makes". After a monumental surge in prices in January 2018, the cryptocurrency market has been caught in the vice-like grip of a bear market. Social media is full of bag holders screaming crypto scam, rekt, and mainstream media is full of negativity about the state of cryptocurrencies. Click-bait media is blaming everything from Donald Trump to next door's cat for the drop in prices.
In numbers, bulls versus bear 2017-2018:
Can a quick look at the numbers shed any light on the bulls versus bears 2017-2018? The two images below are screenshots of the cryptocurrency prices for 30th December 2017 and 2018 taken from coinmarketcap. We will briefly asses what these images tell us.
Bull market top 10 cryptos 2017
Bear market top 10 cryptos 2018
It's clear to see that at the time of writing, there is fair less money in the cryptocurrency markets. In December 2017 Bitcoin had a market cap of over $250b, XRP $97b and Ethereum $69b. In December 2018 the three coins mentioned are roughly equivalent to the market cap held by XRP alone in 2017. Given the infancy of the crypto markets, and the amount of hype created in 2017 versus the negativity avalanche in 2018, we find this difference to be unsurprising. Compared to the global stock exchanges which have a rich history spanning many decades, the amount of money circulating is always going to be less for new markets, and finding any comparisons at this stage, we feel is counter productive. Low market caps are always going to be subject to much larger peaks and troughs.
It is a also noticeable that the make up of the top 10 differs over the two charts. ADA, IOTA, NEM and Dash have been replaced by EOS, Tether, Bitcoin SV and TRON. Some of the coins gone from the top 10 have been clouded in negativity (IOTA was found to have flaws by MIT), or seen to lack progress by the community (ADA). Whilst newcomers either didn't exist in 2017 (Bitcoin SV is a result of a fork of Bitcoin Cash in late 2018), or were brand new and have since been developing rapidly (TRON-TRX).
How will 2019 compare to the bulls versus bears 2017-2018:
As we have made clear in our mission statement, we will never do price predictions for any crypto currency. We feel this is misleading and counter productive to the market. Sure, we could title 100's of articles in such a way that we receive hundreds of thousands of views for each one, but what is the point when those articles are clickbait and have no real substance? Furthermore, as we have mentioned above, the market is still in it's infancy, and will be subject to massive swings up and down as it continues to develop as a whole. Social and institutional acceptance is required for growth, and like it or not, regulations need to be further developed to allow it to succeed.
One thing is for sure, 2019 should be another fascinating year for crypto investors. Bitcoin prices seem destined to remain in the hands of public sentiment and mining centralization. Ethereum seemingly needs to develop a protocol that will prevent others coins needing to move away to their own mainnet. XRP will always face criticism on social media, but needs to carry on developing partnerships and assisting in global regulations for the good of the entire market. And people need to extensively #DYOR and stop blindly throwing their hard earned cash at projects in the hope of getting rich quickly, only to blame everyone but themselves when things turn sour.
From all here at Wisecryptos we wish you a healthy and prosperous 2019!
Relevant news