Bitcoin SV Crypto Rating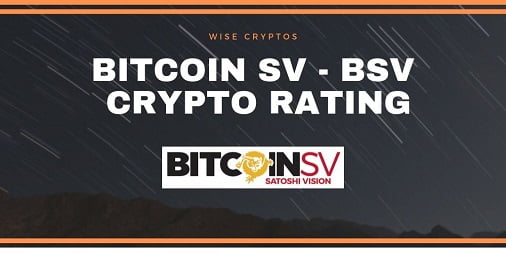 Unlike most cryptocurrency ratings published online, the Wise Crypto ratings have nothing to do with the current or future price of the currency. Whether or not a crypto is over or undervalued or priced today is completely irrelevant. Our research focuses on the sustainability of each project, the security, the use case, decentralisation, environmental impact, the technology, the scalability and the developers and teams behind the projects.
Bitcoin SV (BSV) Rating = 125/1000
Technology (0 to 300) = 125
BSV transactions are processed quite fast and at low transaction fees. Transactions are theoretically confirmed almost instantly. The network can theoretically handle up to 700 transactions per second (tps) successfully – with no loss of transactions, thereby enabling fast transfers. In practice we are yet to see these speeds.
Bitcoin SV transaction cost is far lower compared to today's payment card systems, which charge 2-3% per transaction. In fact, one of the goals of BSV developers was minimizing transaction costs to provide affordable and fast transactions at large scale. BSV transactions cost on average between half of 1 cent and 3 cents, and it's claimed that the transaction fees will drop even lower as block sizes get bigger and technology improves. One does have to wonder what would happen with real useage and network congestion though.
Scalability (0 to 50) = 25
BSV has recently scaled its network by increasing the block size limit from 32MB to 128MB, making it even handle more transactions at a go. BSV is already getting bigger as on July, 24, 2019 the network upgraded to a much bigger default block capacity of 2 gigabytes (200 megabytes) which is 2000 times bigger than BTC. This expansion in capacity enabled it to scale to 1,000+ transactions per second. With such great capacity, BSV can greatly support many forms of data transactions, and it's not only limited to just payments. Again though we still need to see how this would work under real world scenarios.
Reliability (0 to 50) = 30
BSV claims to be reliable and can efficiently replace every payment system in the globe with better user experience, a cheaper merchant cost as well as a high level of security. Businesses can rely on Bitcoin SV to provide a stable and scalable network for businesses in terms of facilitating several cryptocurrency payments at a time as well as other forms of transactions. However, a few folks are still beat down with the fork that made BSV come into existence.
Environmental Impact (0 to 50) = 10
BSV can be mined attributed to its Proof-of-Stake consensus, which is similar to Bitcoin's. The fact that BSV is minable means that it relies on computing power which poses several environmental issues.
Decentralization (0 to 50) = 5
There are claims that the BSV network is 60% centralized by SVPool and BMGpool. The man behind BSV, Craig Wright and his cohort (Bodog Casino and CoinGeek Founder) Calvin Ayre apparently has all the hash power pointing at the "pools". Many Bitcoin users claim BSV is highly centralized. That has led to multiple exchanges, like Binance, delisting BSV. This is up for debate though as the delistings came as a backlash to Wright attacking Binance for providing money laundering services to terrorists, weapons dealers, people traffickers, drug dealers and other criminal elements.
Security ( -250 to 0) = -230
Reorg Attacks/51% Attacks (-100 to 0) = -100
On April 27, 2019, BSV was hit by block reorgs in two separate 51% Reorg attacks that happened on block 557301 which then invalidated every block mined after it. The attack also delayed or reversed transactions on the block and opened doors for double-spend attacks which destroyed the value of BSV. Everybody on the BSV network was affected by the attack as it uses a single client.
Potential for being Banned ( -100 to 0) = -80
BSV has a high potential of being banned because of its centralization status as well as it's reliance on damaging POW consensus. Already, some exchanges, notably Binance and Kraken exchange, have delisted and disabled BSV trading. This paints a bad picture regarding the future of BSV and if we take into account the controversial Craig Wright at the helm and the court cases against him things look very bleak.
Network Vulnerabilities (-50 to 0) = -50
BSV network has severe network vulnerabilities that have been rated as medium severity. The vulnerabilities are CVE-2018-1000891, CVE-2018-1000893, and CVE-2018-1000892 that enables an attacker to send specially crafted network packets to the target node, which would needlessly consume large amounts of processor and network resources. The attack could result in a Denial of Service by the exhausting processor and network resources and would not be detected or prevented by the software. This is serious concerns to the security of the network.
Use Case (0 to 500) = 215
Initial Main Use Case (0 to 100) = 10
BSV is a cryptocurrency created as a result of Bitcoin Cash hard fork (actually, it was introduced a little bit early, prior to the fork – in August 2018). On November 15, the blockchain has officially split into two competing coins – Bitcoin ABC (Adjustable Blocksize Cap) and Bitcoin SV (Satoshi Vision). BSV cryptocurrency aims to bring back the values and technology of the original Bitcoin. BSV is (not) decentralized, and as a payment method for transacting and making a trade, that could elevate the capacity of the network.
Mainnet Live (0 to 200) = 200
Bitcoin SV went mainnet live on August 2018 after Bitcoin Cash hard fork split into two competing coins following a disagreement within the community. It has since attracted a loyal community and led to the decline of Bitcoin price and also general market struggle.
Additional use cases (0 to 100) = 0
Apart from being used as a means of exchange, BSV can facilitate quick and reliable cross-border money transfer. It intends to revolutionize cross-border payments. Nonetheless, more use-cases should be launched by the foundation as these lofty aims are never going to be achieved by BSV.
Additional Working Products (0 to 100) = 5
BSV has a single working product referred to as Paymail protocol. This product allows users to send BSV directly to an email address rather than clunky 26+ character Bitcoin wallet addresses which are usually cumbersome to write.
Core Team, Partnerships & Developers (0 to 200) = 15
Core Team & Developers (0 to 100) = 10
The BSV chain leader is Craig Wright, who claims to be Satoshi Nakamoto. Wright is one of the major media figures involved in the common Bitcoin Cash hash war along with Roger Ver. The Lead Developer is Daniel Connolly, who joined nChain after 20 years in enterprise systems. Besides, the Bitcoin SV team has a pool of five full-time C++ developers with over 95 collective years of development experience.
The reputation of BSV leading duo Craig Wright and Calvin Ayre however brings everything into doubt.
Partnerships (0 to 100) = 5
BSV has made some minor partnerships aims towards making it a giant in the provision of cryptocurrency payment as well as cross-border transfer. Among the institutions it has partnered with include The International Professional Pool Association( IPA), HandCash, Centbee, and The Honest Men.
There are no BSV casinos or Bitcoin SV casinos. See all Bitcoin casinos here.
Relevant news