Apollo To Release Hermes Update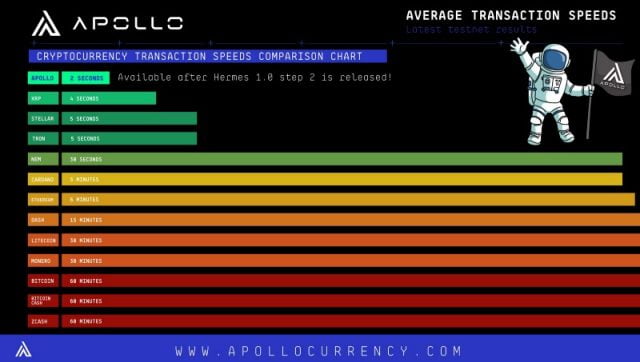 We learned today through their Foundation, that Apollo To Release Hermes Update By Q1 2019. This update promises to bring lightning speed transactions to it's privacy centric native cryptocurrency, APL.
Apollo Foundation, 27/12/2018:
Apollo To Release Hermes Update By Q1 2019
Apollo Foundation continues to build Apollo (APL) as all-in-one currency that will give complete privacy to users. APL's features will help companies and individuals who don't want to publish all of their information onto a public blockchain.
The team will release important updates in the coming weeks.
By Q1 2019 the foundation will release Hermes V.2.0. This new version will introduce Apollo Sharding as well as Adaptive Block Generation. Both will enable the APL blockchain to exceed its current settlement time of 1–2 seconds — which is already faster than Ripple's (XRP's) 4 seconds.
Blockchain sharding involves splitting the blockchain into segments. This approach has positive effects on volume of transactions, download speed, blockchain speed, and overall stability of ecosystem. Sharding processes a transaction in different parts, and these are confirmed by nodes much faster when compared to conventional processes. This innovation will make Apollo blockchain faster and more secure.
Adaptive block generation refers to creating blocks only in the presence of transactions. A transaction can settle faster by controlling the volume of data stored in the block and by creating a new type of prioritized transaction called "guaranteed transactions."
Hermes V.2.0 will be followed by Olympus protocol V.3.0.
Apollo will offer disruptive characteristics including: (1) all-in-one features (2) complete privacy, and (3) extremely fast settlements. More information can be found on the website.
by Marvin Dumont
###
Relevant news