4 Line Deuces Wild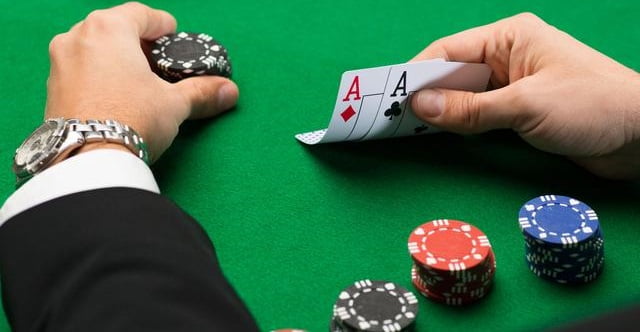 4-Line Deuces Wild Video Poker
The object of 4-Line Deuces Wild is to obtain a five-card poker hand that contains a winning combination. It differs from original Deuces Wild, since it has four lines of cards. The game is played using 4 decks of cards. Each line uses a different deck of cards. Each line is treated as a separate hand for the determination of any wins.
The better your hand, the bigger the payout. You choose how many and which of your cards are to be replaced. You may replace your cards only once.
After each round, used cards are returned to the decks and the decks are shuffled.
Note: in 4-Line Deuces Wild, the deuces are wild – meaning a deuce (two) stands for any card, like a joker. Hence the name of the game.
To play the game:
Choose the value of the coins you wish to wager each round, by clicking on the + and – buttons on the lower left of the screen.
Click Bet One or Bet Max to select the number of coins you wish to bet per line. Each click on the Bet One button adds another coin to the bet per line. Clicking Bet Max increases your bet to the maximum – that is, five coins per line – and deals the cards automatically. You can also click the appropriate column on the paytable to specify the number of coins per line.
The bet size you choose is per one line. Since there are four lines of cards, four times the single line bet amount is subtracted from your account balance. Your total bet amount is shown on the Bet screen in the lower right corner of the window.
Click Deal.
Choose which cards you wish to keep by clicking on the card. Held cards are used across all four lines of cards. The game has an auto-hold feature where cards that make up a winning hand on the original deal are automatically held.
Click Deal to replace the cards that you did not choose to hold. After the cards have been replaced, your cards are checked for any winning combinations, described in the paytable.
If you have winning hands on multiple lines, your winnings are added up.
The lowest winning combination is Three of a Kind; that is three cards of the same kind (for example, three Queens).
Doubling:
If you end up with a winning hand, you can accept the win (click Collect), or Double it. Should you choose to Double, the dealer draws a face up card and you are given 4 face-down cards to choose from. If you choose a card that turns out to be lower than the dealer's, you lose your original win. If the cards are equal, it is a tie, and you have the option to collect your original winnings (click Collect) or Double again. If your card is higher, you win double your original win amount. You then have the option to collect your winnings or Double again.
You can also choose to Double Half, which means you only double using half of your current winning amount, and deposit the rest into your balance. If your current winning amount cannot be evenly divided by two, it is split into two as equally as possible and the smaller half can be used for double up while the larger half is deposited to your balance. Double Half To shows the amount you would win, including the amount deposited into your balance.
You can move the Double window (if enabled in the Options) by dragging it with the mouse. Doubling is a separate game round, and can be viewed as such in the Game History. During doubling the Bet screen displays the amount wagered for doubling. The Win screen displays the win amount for the current round.
You can double up until your current winning amount exceeds the Double Up limit or the maximum number of double up rounds have been reached. Ties and Double Half do not count towards the double up round limit. Clicking the Limits button opens the panel where you can see the limits of the current double up rounds.
Note: in the Double and Half-Double rounds, deuces (two's) are NOT wild.
Buttons:
Bet Max
Bet five coins and deal the cards automatically.
Bet One
Bet one coin or increase the bet by one coin (up to a total of five). Click Deal to receive your cards after that.
Deal
Deal a new hand, or replace cards that you didn't hold with new ones.
Click to Hold
Select the cards you want to keep. Click the button again to release a card. Cards can also be held or released by clicking on them directly.
When doubling, use these buttons to choose the card you want to play.
Paytable
The paytable shows the payouts for the winning combinations. To find the win amounts, multiply the payout shown in the paytable by the value of the selected coin. Number of coins increases from left to right: if you are betting one coin, use the leftmost column, if you are betting two coins use the second column from the left, etc. The rightmost column shows win amounts for Max Bet (five coins).
Return to Player
The theoretical percentage return to player (RTP) is 98.91% when playing with maximum number of coins and 97.69% with less than maximum number of coins.
Visit the best <online-casino-usa/">USA online casino.
Your No-Nonsense Guide to Playing Real Money Video Poker Games Online
Video poker is a true classic of online gaming, perhaps taking to the online arena so well because it has always been an electronic form of casino play.
We are here to help you find the best places to play video poker and that is why this guide has been specially produced to give you the info you need to succeed.
Video Poker Basics
Video poker first appeared in the mid-70s and then became popular in the 80s, as it became cheaper for casinos to produce the machines. The game is thought to have gained popularity in casinos because any player can sit and play by themselves, while the buzz of the table games can be intimidating, or too high-stakes.
Despite the name, video poker does not work quite like a standard poker game and is not to be confused with online poker. In fact, it functions much like a slot machine, with players betting on the random outcome of the hand of cards in a similar way to betting on the reels. Each time the player bets, they get a hand of five cards. The difference is that the winning combinations needed are based on the winning hands in poker, from two pairs up to a royal flush.
Players can also hold some, all or none of the cards they are drawn, then redraw the rest. This introduces a slight element of skill. The most common version of video poker is Jacks or Better, where payouts begin from a pair of jacks.
How to Play Video Poker Like an Expert
Stick to these simple principles and you will be playing Video Poker like an expert in no time:
Do your homework
The key to video poker is knowing the hands of poker and the probabilities associated with building. This information makes it much easier to make the right decision when keeping or redrawing cards. The key to the draw is that the better paying hands are always going to be harder to get, so you need to look at what you have and plan accordingly.
Keep a Pair 
If you have a pair in the starting hand, it may be tempting to dispose of it for the chance of a better hand. However, keeping a pair greatly improves the odds of landing something which builds on that pair in the redraw- a full house, three of a kind or two pairs.
Check the Pay Table
Players should also pay attention to the pay table when playing video poker. The type of game you're playing may pay out more or less for certain combinations, which in turn makes the return to player or overall pay out percentage higher or lower. A 9/6 Jacks or Better machine is a great example of a good machine in these terms, paying 9 and 6 coins respectively for a full house and flush. Some pay only 8 and 5 coins instead and have a slightly lower return.
Quick Tips
"Think about what's in your hand and what's missing from it to make a better paying hand. Dispose of any cards that don't fit into a pattern"
"Remember that the game is largely chance and no strategy is perfect"
"Learn the hands and which are more valuable than others"
"Look for machines with a good pay out, like full pay Jacks or Better"
Video Poker Strategy
The way to improve your chances with video poker is simply to know when to hold cards or redraw them. There are many guides on the internet which discuss what to do with any given hand, based on the likelihood of turning it into a better hand.
Knowing the hands is the real key here. The strategy given by Wizard of Odds involves playing the highest hand in this list which matches your cards:
1. Four of a kind, straight flush, royal flush
2. 4 to a royal flush
3. Three of a kind, straight, flush, full house
4. 4 to a straight flush
5. Two pair
6. High pair
7. 3 to a royal flush
8. 4 to a flush
9. Low pair
10. 4 to an outside straight
11. 2 suited high cards
12. 3 to a straight flush
13. 2 unsuited high cards (if more than 2 then pick the lowest 2)
14. Suited 10/J, 10/Q, or 10/K
15. One high card
16. Discard everything
Inside straight refers to a straight with a missing card somewhere in the middle (such as 3,4,6,7, which is missing a 5). Outside straights are missing a card from one end (such as 3,4,5,6, missing either a 2 or 7 off either end to complete it).
Video Poker Rules
The core rules of video poker are pretty simple. The player places a bet, then the machine draws five cards. The player wins if their hand of five cards can form a winning poker hand, based on the game's pay table. First, the player gets the opportunity to keep any number of the cards and redraw the rest without any additional bet, to improve the chances of forming a winning hand.
The most common rule for which hands pay is that the hand needs to be a pair of jacks or better, hence the most common variant of the game.
The variations in rules usually come with different types of video poker.
They may allow lower winning hands, or have special bonuses for landing a certain hand, or even progressive jackpots. These are usually tied to the royal flush.
Types of Video Poker
There are several variations of the base video poker game, made all the easier by its electronic nature. Developers are always coming up with new ways to tweak the game or try new ideas. Several variants have become standard across the online world and in real casinos.
Jacks or Better is the standard version of the game, sometimes called 'draw poker'. Full Pay or 9/6 Jacks or Better is the preferable version of this.
All American Video Poker is similar to jacks or better but pays better for flushes, straights and straight flushes, at the cost of a lower pay out for full houses and two pairs.
Tens or Better allows for pay outs from a pair of tens, with pay outs being lower in general to compensate.
Joker's Wild includes a joker as a wild symbol, substituting for other symbols to make better hands. This can also result in a winning 5 of a kind hand.
Deuces Wild is an unusual version where all 2s are wild. The pay out for four of a kind is much larger and comes up more often.
These games can offer over a 100% return with the right strategy.
History of Video Poker
Video poker's arrival in the mid to late 1970s is due to advances in technology. Around this time, it became commercially viable to produce screens and processors to run small, self-contained video games (and personal computers). Without this, the game could not exist.
The popularity of the game boomed as American businessman William Redd, also known as Si Redd, acquired the rights to the game. He later founded International Game Technology (still creating online games today). The game became popular on casino floors and also in smaller casinos, where it could be played casually with lower denominations.
Advanced tips
Keep hold of a pair, as it can lead to two pairs, a full house or three of a kind.
Watch out for even high cards, they can be very useful to keep improving the odds of a high pair.
9/6 Jacks or Better or Deuces Wild, are good games to keep an eye-out for.
Look for games with bonus ways to win,  an outside straight is much easier to turn into a straight than an inside one.
Relevant news